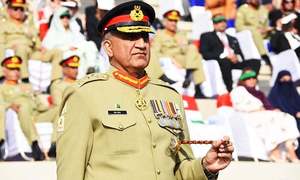 Monitoring Desk
LAHORE: A public policy think-tank has suggested that the army chief should not meet politicians, particularly party chiefs, to avoid "unnecessary controversies".
In its latest issue of Civil-Military Relations Monitor, Pildat says the Chief of Army Staff Gen Qamar Javed Bajwa's meeting with Pakistan Tehreek-i-Insaf Chairman Imran Khan on March 31 attracted media attention and made people start asking questions and even speculating as to why this meeting was held.
"Unless some new information suggests otherwise, we feel that it is ordinarily not desirable for COAS to hold meetings with party chiefs," the Monitor says.
"If it was something to do with the KP government where Mr Imran Khan's party rules, the right approach should have been to deal with the provincial chief minister instead." it says.
It fears if these meetings become a new normal, it will be very difficult to avoid meeting other political leaders and each such meeting will generate unnecessary controversies.
It says the peculiarity of the meeting between the army chief and the head of a political party was only matched by the opaqueness of what was discussed in it and that Mr Khan's vague remarks stating that Gen Bajwa 'stands by democracy' muddied matters even further.