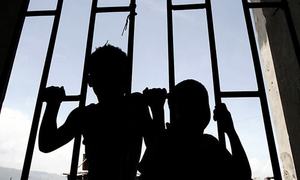 Some influential people of Raiwind allegedly chopped off sexual organ of a class nine student for 'honour', besides depriving him of his eyesight by stabbing him with an ice pick.
The incident which took place in the last week of February this year was highlighted after the victim's family staged a demo against alleged backing of the suspects by a parliamentarian and his aides.
Operations DIG Dr Haider Ashraf, confirming the incident, termed it a brutal and atrocious act committed in the name of honour.
"Five suspects kidnapped a 14-year-old Aish from his school, took him to a deserted place near River Ravi and committed the inhuman act," Dr Haider said.
He said the police had arrested all the suspects after lodging a criminal case against them. Of them, three were on judicial remand, he added.
The victim's father, Javed, told Dawn, "After three-week treatment, the doctors discharged him saying he will have to live with it for the rest of his life".
A resident of Rangeelpur village of Sundar area, Javed said the prime suspect, Hanif and his accomplices Amir, Ashfaq Azam and Waqar had suspicion that his son had relations with his (Hanif's) daughter.
On Feb 27, the suspects kidnapped the boy and subjected him to the brutality at a deserted place a few kilometres away from his native village.
They first stabbed his both eyes with an ice pick and then chopped off his penis with a dagger, Javed said in a broken voice.
"This horryfing tale does not end here. They later also kidnapped my elder son Awais to press me for reconciliation," he said. Awais was later recovered by police, he added.
He alleged that the suspects were being backed by a local parliamentarian.
Javed said that two of the suspects were absconders but the police were recluctant to arrest them because of political pressure.