Class seven English language examination paper leaked in Sukkur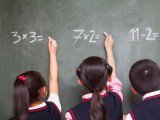 SUKKUR: 
The English language paper of the annual examinations of class seven, which was supposed to be attempted today, was leaked 36 hours before the examination in Sukkur. The paper was being sold for Rs100 to Rs300 by government school teachers.
The annual examinations of elementary classes were scheduled to start from today and the first paper was English language. Parents were surprised when some students brought home the English language paper in advance from teachers or agents. A copy of the paper is available with The Express Tribune.
One of the students of class seven, requesting anonymity, said that one of his friends purchased the paper for Rs200 and then made 20 copies of it, selling each copy for Rs50. He said that some of the students are claiming that they have managed to get almost all the papers in advance in collusion with some teachers.
School Education Director Abdul Aziz Hakro expressed anger over the situation. "As far as I know the office-bearers of the Government School Teachers Association are behind this." He said that everyone knows that the papers are set by the teachers concerned, who are not supposed to leak a single word of them. "I have ordered an inquiry into the incident and anybody found responsible will be dealt with severely," he said, adding that they have cancelled the English language paper throughout Sukkur region and have rescheduled it for Wednesday, March 22.