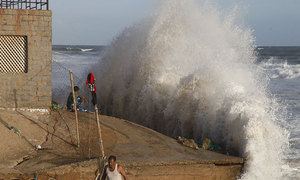 Our Desk
Four people, including three teenagers, drowned in the sea near the Paradise Point beach in Karachi on Sunday, police said.
The four were residents of the Buffer Zone area. They drowned early Sunday morning while at the beach for a picnic, Station House Officer (SHO) Maripur Muhammad Iqbal said.
The deceased were identified as Raba Ghaus, Zubair Majeed, Misal Mahnaz ─ aged between 15 and 18 years ─ and Danish, 25, the SHO added.
All four bodies were retrieved from the sea, Iqbal said.