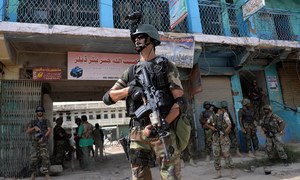 Five suspected militants, including a 'high-value' target of the Tehreek-i-Taliban Pakistan (TTP) identified as 'Duran', were killed in an intelligence-based operation carried out by security forces in the Kalaya area of Orakzai Agency early Wednesday, an Inter-Services Public Relations press release said.Two FC personnel also laid down their lives in the exchange of fire that ensued during the operation. The deceased were identified as Major Mudassar and Sepoy Mateeullah.The security operation was conducted by Frontier Constabulary (FC) personnel as part of Operation Raddul Fasaad in Mirak village in Kalaya.
Orakzai is one of Pakistan's seven semi-autonomous tribal regions in the northwest, where Pakistani Taliban and Al Qaeda-linked militants are said to have carved out strongholds.It was a key abode of former TTP chief Hakimullah Mehsud before he was killed in a US drone strike in North Waziristan in 2013.Operation Raddul Fasaad, which aims to indiscriminately eliminate the "residual/latent threat of terrorism", was launched exactly a month ago in the aftermath of a fresh resurgence in terror attacks in Pakistan.
Security official loses life in IED blast
One security official died and three others sustained injuries in an improvised explosive device (IED) blast near the Pak-Afghan border in South Waziristan on Wednesday, official sources told News.The IED, which was planted at a roadside, struck a security forces vehicle in the Angoor Ada area of South Waziristan.The injured were taken to a nearby hospital for treatment.Security forces cordoned off the area after the explosion and started a search operation.