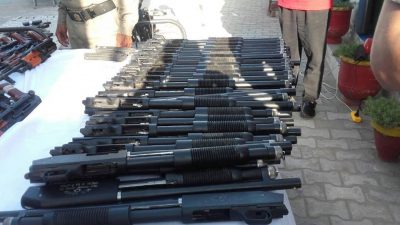 Our Desk
Security forces recovered a huge quantity of weapons from a car in Kot Pindi Das area of Sheikhupura on Monday.
As the Motorway police tired to stop the car, on its way from Islamabad to Lahore, the driver lost control and the car fell into a ditch, the Motorway police said.
The secret compartments of the car became dislodged as it totalled, revealing the cache of weapons hidden in them.
The cache of weapons recovered from the car are displayed.
Motorway police recovered an assortment of nearly 100 rifles, Kalashnikovs, and other guns as well as a large cache of bullets. The two suspects travelling in the car managed to flee the scene.
In a press conference, officials of the Motorway police said the weapons and bullets have been taken into custody and a preliminary investigation is now underway.
Over a hundred rifles were found in a secret compartment of the car
The car from which the weapons were recovered.