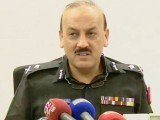 KARACHI: Sindh government has finally decided to surrender the services of Sindh IG Allah Dino Khawaja to the federal government.
The provincial government sent a letter to the federal government on Friday and surrendered the services of IG Sindh, while also recommending three names for the post.
"I am directed to refer to the subject noted above and to state that the Government of Sindh has decided to surrender the services of Mr Allah Dino Khowaja, an officer of Police Services of Pakistan (BS-21), Inspector General of Police, Sindh, Karachi," the letter by Sindh Secretary Services Sajid Jamal Abro read.
AD Khawaja was appointed as IG Sindh Police in March 2016 after the federal government removed former Sindh IGP Ghulam Hyder Jamali from his post.
On December 19, 2016, Khawaja was sent on forced leave by the provincial government while the responsibilities of the IG Sindh were handed over to Additional IG Karachi Mushtaq Mahar. However, after a few days of the controversy, he resumed charge of his office.
He was sent on forced leave, but after criticism from civil society and the court's stay, the Sindh government was forced to reconsider its decision.
The PPP's government had sent the top police official on 'forced leave' due to differences on multiple issues relating to recruitment, appointments and transfer and postings in the Sindh police.