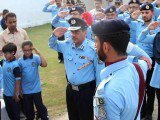 ISLAMABAD: The Islamabad Inspector General of Police Tariq Masood Yasin was transferred to the Punjab, a notification issued on Friday read.
While no full-time replacement was immediately announced, DIG Headquarters Khalid Khattak has been given temporary charge of the IGP's duties.
A notification issued by the Establishment Division on Friday said services of IGP Yasin had been placed at the disposal of the Punjab government.
The provincial government had a few days ago requested the Establishment Division to transfer Yasin.
The Establishment Division had subsequently written to the Interior Division, requesting it to spare Islamabad's top cop. The division took 11 days to finally cede the request.
Yasin, who had been promoted to basic pay scale 21 on February 25, had served as Islamabad's IGP for almost a year.
DIG Khattak, a grade-20 officer, will be temporarily taking up the duties of the inspector general till a full-time replacement is announced.
Over the past year, Yasin had made the Safe City Project operational. He had also established a counter-terrorism wing and launched a homicide investigation unit in the capital.
The outgoing IGP has also pushed the force to increase its use of technology for policing and interaction with the public.
It's because of his emphasis on the use of technology that the force started using tools such as Whatsapp, Facebook, and Twitter for internal communication and for interaction with the public. These efforts included live streaming of traffic monitoring feed on Facebook.
Moreover, he also launched the ICT Police Communication System to maintain criminal records.
Yasin also made efforts to interact with the public personally.
Officials said people from all walks of life used to visit him almost every day. He had also directed his staff to give an appointment to whoever wants to approach him.
"He has set the bar very high and leaves behind a strong legacy," an official remarked.