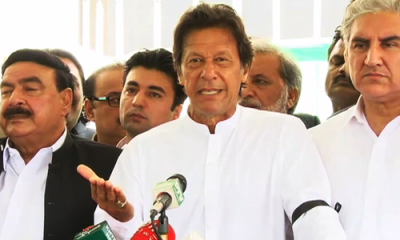 Pakistan Tehreek-i-Insaf (PTI) Chairman Imran Khan announced his party's intention to hold a rally in Islamabad next Friday to "demand Nawaz Sharif's resignation".
Speaking to reporters outside the National Assembly, Khan posed the question: "With which face will the PML-N confront the public after the comments made in the Supreme Court judgement?"
"I asked the PML-N supporters, what were you distributing sweets for yesterday? You should have read the full judgement," he said.
"It has never happened in Pakistan's history before that such comments were passed against a sitting prime minister."
"All five judges have raised questions asked by the PTI," he said, adding that the apex court had rejected all defences presented by the PM's counsel.
"Resign while you are being investigated," he urged the premier. "This is not an unusual demand."
Imran asked if it was possible for heads of institutions like the National Accountability Bureau to investigate the prime minister while he remained in power.
"If these institutions had been working, they would have stopped corruption already," he asserted.