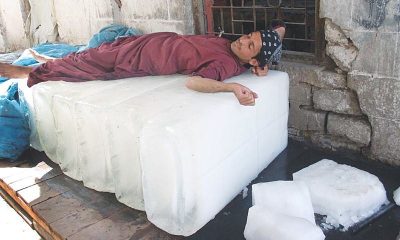 KARACHI: As Karachi continued to sizzle at 42 degrees centigrade, hot and dry weather gripped entire Sindh on Tuesday with Dadu and Nawabshah becoming the hottest places in the country where the mercury rose to 46 degrees Celsius.
While no heatstroke case was reported in Karachi, some 22 people fell unconscious in various areas of Dadu district and were admitted to private hospitals since there was no heatstroke centre at the government-run hospitals.
The Met Office said that the extreme weather conditions were because of hot continental winds, which will continue to blow across the province, including the provincial metropolis, on Wednesday and cause hot to very hot and dry weather.
The maximum temperature in Karachi is expected to range between 39 and 41 degrees Celsius on Wednesday (today).
On Tuesday, the minimum temperature in Karachi was 21.5 degrees centigrade with humidity, or the amount of moisture in the air, at 10 per cent. The maximum temperature in the city on Monday was 40.5 degrees centigrade.
In Padidan, Mithi, Moenjodaro, Chhor and Jacobabad, the mercury surged to 45 degrees Celsius; Hyderabad and Larkana (44 degrees Celsius) and in Sukkur, Larkana and Badin the maximum temperature was 43 degrees centigrade.
In Karachi, all hospitals remained on high alert to take care of the patients suffering from heatstroke.
"We are on high alert since Monday. All the government hospitals are ready to take care of any patients suffering from heatstroke," said acting Director General (Health) Dr Mohammad Tofeeq. "None of our hospitals in Karachi have reported any heatstroke patients so far."
"People are quite aware of the risks that a heatwave brings with it, thus, they are following the directions being given by the government in its awareness drive," he added.
Dr Seemin Jamali, the executive director of the Jinnah Postgraduate Medical Centre (JPMC) which received more than half of the patients and victims of the country's worst heatwave in 2015, said her hospital had made all-out measures to treat any heatstroke patient.
"We have got everything which is required to treat heatstroke victims, and we have got ready the required publicity material to keep people aware about the hazards and precautions required to save them from heatstroke," she told Dawn.
On Monday, Karachi Mayor Wasim Akhtar was told that some 12 centres had been established in KMC hospitals for heatstroke patients.
While a provincial government official claimed that the government was fully prepared to cope with extreme weather conditions across the province, the situation was much worse in Dadu where 22 people suffered heatstroke on Tuesday.
There were widespread complaints from the people that the district administration and health department had not taken any measures to establish heatstroke centres at government hospitals to protect the lives of people.
As none of the government hospitals, including the Civil Hospital Dadu, had any centre to treat heatstroke patients, the 22 patients — from Dadu, Johi, Phulji, Khudabad towns — who fell unconscious were taken to private hospitals for treatment.
Dr Aftab Ahmed Bhand, who runs a private clinic, said that it was necessary for the health department to establish heatstroke centres at government hospitals to treat people. The deputy commissioner should have monitored such centres, he added.
However, acting DG (Health) Dr Tofeeq claimed that his department got no report of any heatstroke patient in the province.