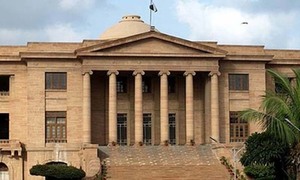 Federal and provincial authorities chose to remain away from Friday's proceedings in a case pertaining to Ghulam Qadir Marri's recovery being heard by the Sindh High Court (SHC), even though they had been directed to file their respective replies in the matter by a two-judge bench hearing the case on April 11.
The bench expressed "extreme displeasure" over the failure of the responsible authorities in filing their replies to a petition filed by Ismail Marri.
Ismail seeks the recovery of his brother — a close aide of former president and PPP supremo Asif Ali Zardari — and three members of his personal staff who had been missing since Qadir's vehicle was found abandoned near a thermal power station in Jamshoro on April 7.
Ismail has informed the court that his brother has not been produced in any court of law and that his family have not been provided any details regarding cases against him.
He has asked the court to ensure the release of the detainees if they were not wanted in a case.
In Friday's hearing, Justice Muhammad Shafi Siddiqui, who heads the bench, directed a cellular company involved in the case to submit the call data of the missing man within two days in court.
It also directed the federal and provincial governments' law officers to ensure that respondent authorities submit their comments in the case and adjourned the hearing to April 20.
This is the third case of political importance as far as Sindh's ruling political party is concerned.
A few days earlier, another Zardari aide, Ashfaq Leghari, had gone missing from the Super Highway from the jurisdiction of the Gadap Town police station.
Leghari's daughter, Yusra Zainub, has separately moved the SHC for the recovery of her father.
She said her father had gone missing on April 20 while heading to Larkana to attend Zulfiqar Ali Bhutto's death anniversary. Ashfaq's car was found abandoned near the Quetta Darbar Hotel in Gadap.
The petitioner said she feared her father had been detained illegally by law enforcement agencies and requested the judges to direct them to produce him in a court of law.
Nawab Leghari, a former adviser to the Sindh government and another Zardari aide, was also whisked away by unidentified people in Islamabad. Until recently, he had been residing in Hyderabad's Defence locale and had shifted to Islamabad in the recent past .