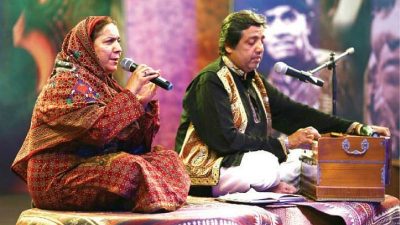 Children of famous folk singers like Ustad Khameso Khan and Zarsanga were invited to participate in the annual Lok Mela
Lok Virsa invited the children of legendary folk artists to take part in a live concert at its Open Air Theatre on Tuesday as part of its annual 10-day Lok Mela.
The event was meant as a tribute to famous folk artists and to provide their younger generation with a platform to perform.
The show started with Akbar Khan Khameso presenting two songs on his Alghoza in tribute to his father, Ustad Khameso Khan. The first was a folk song from Sindh and the second included famous tunes from all the provinces of Pakistan.
Akbar Khameso hails from Sindh and his father was very popular for the Sindhi tunes he played on his Alghoza. The instrument consists of two joined flutes, one for melody and the other from drone. The flutes are either tied together or may be held together.
Mr Khameso was followed by Taj Mohammad Tajal Baloch who plays the banjo and is a music composer as well.
He played two songs and was accompanied by Parveen Rani, a Pashtu singer.
Mr Baloch is the son of Faiz Mohammad Baloch who was a famous Baloch singer and was popular for his unique body language when he would perform. He also played the harp and lute.
Liaquat Paroqi, the son of late Balochi singer Murad Paroqi also took part in the event and a local dance group from Khetraan, Darees performed a dance.
Renowned music composer Wazir Afzal launched his album 'Rangla Punjab' on the occasion with Bushra Sadiq presenting his song, 'Kehndy Ne Naina'.
The son of Pushto singer Zarsanga, Shahzada presented four Pashto songs which were accompanied by tunes on the rubab, tabla and dholak by his team. The upbeat tunes led to many in the audience coming on-stage to dance. Shahzada is the second of Zarsanga's three daughters and six sons and the only oneof her children to pursue a career in music.
The performances by the younger generations were accompanied by those of their parents in the background.
A member of the audience, Waheed Ahmed told Dawn it was heartening to see performances by the children of legendary artists. He said he hoped the younger generation will be interested in folk music and that it will not fade with time.
"An entire generation of folk musicians rose to glory when there was no media, no social media and their only platforms were local melas, the village choppal (gatherings) and deras," he said.
Lok Virsa Executive Director Dr Fouzia Saeed said Lok Virsa is making efforts for the preservation and protection of the cultural heritage of the country.