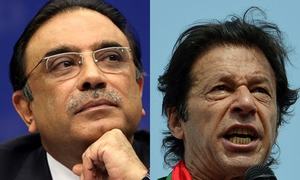 Pakistan Tehreek-i-Insaf (PTI) Chairman Imran Khan found himself in a bit of a pickle on Sunday after he levied several allegations against the PPP leadership during a speech in Talagang, only to find out that his party and the PPP had a political alliance for the Talagang by-polls on April 18.
Amongst other things, Khan had tied the removal of Sindh's senior-most police official to what he framed as the PPP's incorrigible tendency for corruption, saying: "The PPP removed A.D. Khawaja from his post, not because he is a corrupt man, but because he was not letting them get away with their wrongdoings."
Khan, continuing with his diatribe, added that: "Zardari returned and brought back Sharjeel Memon. [Memon] is facing charges of corruption worth Rs5 billion, but when he returned, it looked like he had done some great service to the nation … they were putting garlands around his neck."
It was after Fawad Chaudhary interrupted Khan's speech and asked for a sidebar that Khan revealed that he had only now found out that his party had an alliance with the PPP in the by-polls for which he was there to campaign for.
Attempting to rectify his misjudgement of the situation, Khan tried to save face, saying: "But even I know that PPP supporters do not want corruption in the country, because no matter who steals from us, the loss remains ours. I am sure that PPP supporters will have no problem when I talk about corruption."
But the damage that was done, and soon after PPP said it was reconsidering its stance for the Talagang by-polls.
PPP's Farhatullah Babar, elaborating on the matter, said: "Personally, I would like to revisit the electoral alliance with the PTI, but a decision can only be taken by the party,"
Babar also vowed to raise the matter at a meeting of the party's Central Executive Committee, scheduled to be held in Larkana on Wednesday (Apr 5, 2017).
In another attempt to salvage the situation, Fawad Chaudhary, while appearing on ARY's '11th Hour' talk show, offered an olive branch to the PPP, saying: "No party is a hundred per cent corrupt, nor is any party completely blemish-free. I am sure there are thousands of PPP workers that are honest and have contributed to the country's development."
At that, the show's host pointed out that there were thousands of people who followed Asif Ali Zardari, whom Imran Khan had termed a "symbol of corruption".
Fawad's response to this was: "Not everyone in the party looks up to Zardari saab; some people also look towards Zulfiqar Ali Bhutto for inspiration and others follow Bilawal."
At this point, the show's host reminded Chaudhary that Zardari is the one who calls the shots in the PPP, to which Fawad said: "In the matter at hand, the person standing in the election belongs to PTI, thus we have faith in him; not only PPP but all the other parties are also supporting him against a greater evil."
In the same show, the PPP's Shamila Farooqi extended her 'sympathies' to Chaudhary, saying: "Unfortunately Fawad has not been able to defend Imran Khan's comments and it is sad that sometimes leaders say things that party spokespersons have to defend later."
Farooqi maintained that Imran Khan could not keep alleging that PPP leaders were corrupt if he wanted to call PPP voters' attention towards his party and get them to vote for PTI in the Talagang by-polls.
When the show's host pointed out that the PPP had withdrawn its candidate for the by-polls to give room to the PTI, Farooqi responded with: "Let's be clear that the PML-N will win these by-polls no matter what Imran Khan does. The PPP admits that there is a lot of reorganisation that we have to do before the election in 2018 to regain the ground we have lost in Punjab."
Political Analyst Muhammad Malik also weighed in on the topic, noting that while an alliance would be favourable in the 2018 elections, "it does not seem that one will be possible with Imran Khan around."
Coming to Fawad Chaudhary's shaky defence of Imran Khan's statement, Malik said: "I empathise with Fawad for the position he is in, but he needs to understand that principles cannot be selective. If that was the case then I am sure there are good people in every other party as well and an alliance can be formed with any party."
"If he [Fawad] argues that good people can be working under the umbrella of bad leadership, I would like to say that they are not as good as they seem to be and are not conducting politics based on principle. Therefore, Fawad's defence is very weak," Malik said.
While discussing the PPP's re-calibration in Punjab, he said: "I agree with Sharmila when she says that the PPP has to start working towards regaining lost ground in Punjab, but it will not be possible until they stop holding Bilawal back and let him lead from the front."
"I think the PPP took one step forward in Punjab, by bringing in [Qamar Zaman] Kaira and [Nadeem Afzal] Chand, but then they took four steps back and I don't know what the reason for that was," Mailk said.
He concluded by making it clear that the PPP has a real shot towards making a comeback in Punjab only if Bilawal Bhutto Zardari is given leadership responsibility that comes with the title of party president.
It will be interesting to see what Imran Khan has to make of that.