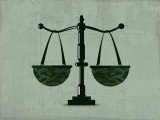 Our Desk
ISLAMABAD: 
The Supreme Court Bar Association (SCBA), on Friday, challenged provisions of the 23rd Constitutional Amendment that gave an extension to military courts.
The body said that over the past two years, military courts have failed in combating terrorism in Pakistan and that there is no justification in repeating or extending such an experiment.
The SCBA, through its secretary Aftab Ahmed Bajwa, filed the constitutional petition under Article 184 (3) of the constitution to the top court, making the secretaries of the ministry of law and defence the respondents. The petition has been drafted by Rasheed A Rizvi.
The association prayed that the instant petition be graciously accepted and the Constitution (21st Amendment) Act, 2017, (Act XII of 2017) and Pakistan Army (Amendment) Act, 2017 (Act II of 2017) be declared invalid for violating the basic structure and salient features of the constitution as well as fundamental rights.
It has also been appealed that since the said amendment effectively abrogated the fundamental rights of the people of Pakistan guaranteed under the Constitution, the same then should not remain a part of the Constitution of Pakistan.
The petition further states that the Supreme Court (SC) held that validating the military courts under the 21st Amendment was an exception because of the war on terrorism. However, an exception, if repeated, would assume the character of a rule rather than an exception. For this reason as well, the 23rd Amendment is liable to be declared invalid.
The SCBA said it is concerned about the certain provision being introduced and amended through the constitutional amendment which could undermine the independence of the judiciary.
That 21st Amendment to the Constitution was introduced by Parliament on January 6, 2015, that had the effect of introducing military courts in the country to adjudicate upon cases against civilians accused of terrorist acts.
The SCBA contended that the very concept of civilians being tried by special military courts is shocking, absurd and deemed it an invasion upon the authority of the judiciary as a whole.
On March 31, President Mamnoon Hussain signed the Constitution's 23rd Amendment bill 2017 granting legal cover to military courts.
As per the amendment, military courts will be functional for another two years.