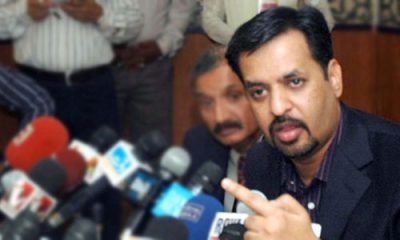 Monitoring Desk
The provincial government imposed Section 144 of the Criminal Procedure Code (CrPC) in Karachi's Red Zone on Sunday ahead of an announced march to the Chief Minister's House,
The law, which prohibits the assembly of more than four people in an area, was put in place hours before the Pak Sarzameen Party (PSP) started its march towards CM House.
PSP chairman Mustafa Kamal had said on Saturday that he expected "one million" people to march towards the "palace of the Sindh chief minister" for their rights.
The rally was expected to move from the FTC building on Shahrah-e-Faisal. The rallying workers would register their protest against the 'poor governance' of the PPP government in Sindh, it had been announced.
Kamal had previously criticised the government for failing to pay any heed to his party's 18-day sit-in outside the Karachi Press Club. "A government delegation contacted us twice but instead of resolving our issues they tried to befool people," he had said at a press conference on Saturday.
At the time, the PSP chairman had said that the city's Red Zone — where the Governor House, CM House, Sindh Assembly and other important government installations are located — was not a sacrosanct place where people could not lodge their protest.