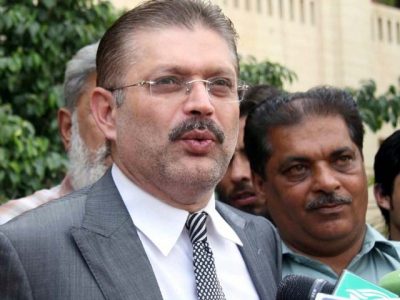 ISLAMABAD: 
The Islamabad High Court (IHC) on Monday granted transitory bail to former information minister Sharjeel Inam Memon against surety bonds worth Rs2 million.
The PPP leader has been granted bail till April 5 with directions to appear before the competent court.
Memon was released late Saturday night after he was arrested from the runway at the Islamabad airport. The PPP leader was released after the National Accountability Bureau verified bail papers that his counsel had submitted to the bureau.
Memon, who is facing a multibillion-rupee corruption case in NAB, was arrested by the bureau's officials from the runway after his flight from Dubai landed at Islamabad airport.
Four provincial ministers of Sindh, including Mukesh Chawla, Imdad Pitafi, Fayyaz Butt and Taimor Talpur, were accompanying Memon when he was taken into custody.
Memon had fled the country in 2015 to Dubai after the anti-corruption watchdog launched a crackdown against corrupt political figures and bureaucrats as part of the Karachi operation.
Later, a corruption reference was filed by NAB and subsequently the federal government put his name on the Exit Control List. He challenged the case and was directed to return to the country and defend himself. During his self-exile he lived in Dubai and London.