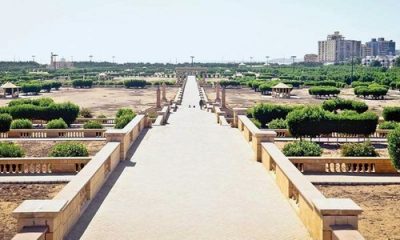 The Sindh High Court on Monday suspended a provincial government notification to hand over Karachi's iconic park, Bagh Ibn-e-Qasim, to real estate giant Bahria Town for 10 years.
A special bench of the SHC was hearing a petition filed by Muttahida Qaumi Movement-Pakistan (MQM-P) leader and Karachi Mayor Waseem Akhtar.
Akhtar's petition followed a notification released by the Sindh local government ministry stated that the decision to hand over the park "for adoption" had been taken after its approval by a competent authority, but made it clear that salary of its staff would be paid by the Karachi Metropolitan Corporation (KMC).
For this 'handover', the Pakistan Peoples Party-led Sindh government first took over the control of the park from the city's municipal administration mainly dominated by the Muttahida Qaumi Movement-Pakistan.
Provincial authorities claimed the move would save funds and encourage private organisations to carry out social work and public service.