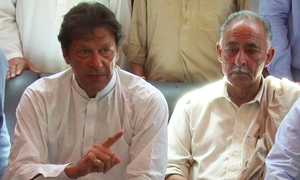 Agencies
Pakistan Tehreek-i-Insaf (PTI) chief Imran Khan hosted a press conference Tuesday alongside Mashal Khan's father in which he issued a strongly worded condemnation of the 23-year-old's lynching on what have so far proven to be baseless allegations of blasphemy.
"As a father, I can understand what Iqbal Khan [Mashal's father] is going through," Imran Khan said.
"It has become clear during the investigation that Mashal never committed blasphemy. He was framed and murdered."
"I want to assure his parents that I will ensure justice for his death," Imran Khan said.
"Even if the culprits are found to be from the PTI, they will be punished. We will not discriminate along party lines in pursuing this case," Imran Khan said.