History of Fight between Aishwarya Rai and Aamir Khan
 Fans always wanted to see Bollywood's Mr. Perfectionist and the beauty queen of India Aishwarya Rai working together in a film. Though this never happened, they still wish that there might come a time when this will happen. But let me tell you that there is a reason for them not working together. So today know the full story about this two Bollywood biggies. Aamir Khan and Aishwarya Rai met for the first time on the sets of an advertisement shoot. The advertisement was of Coca cola. This was in the 90's. Well their chemistry in this advertisement was so amazing that the makers decided to come up with one more ad featuring the two for the same brand. But this time they had one more celeb in the frame. And she was Mahima Choudhary. And this was the time when differences started to occur between the two. While shooting for the ad, Aamir used to tease Aishwarya a lot in front of Mahima. And Aishwarya didn't like that. She even told Amir about this. But for the kind of fun loving and easy go person he was, he just neglected that. She felt insulted and decided that she will not work with him again. She received the offer for the film Raja Hindustani in 1996. But Aishwarya rejected the film saying that she will be focusing on her studies then. But destiny had other plans. Films to ads to promotional events and endorsements, offers came knocking at her door. Then entered Salman Khan in her life and from there a different love story emerged. But once Aishwarya met Aamir Khan again for a promotional event and for this they had to go on a world tour. This was the time she became close to Aamir. They became best of friends. They enjoyed each other's company and also stood for each other. Aishwarya was so into him that she even agreed to do a small role in aamir's film Mela in 2000. Well if you see a star like Aishwarya didn't have any need to do that film, but she did it for Aamir. In Fact the role wasn't even with Aamir, it was with Faisal Khan. After this in 2001, she broke up with Salman Khan and was going through a bad phase. She took time to recover from this and in 2005, Aamir approached her for the film Mangal Pandey. She initially said yes to the film but at the end moment she refused to do it. From there both Aamir and Aishwarya developed issues with each other .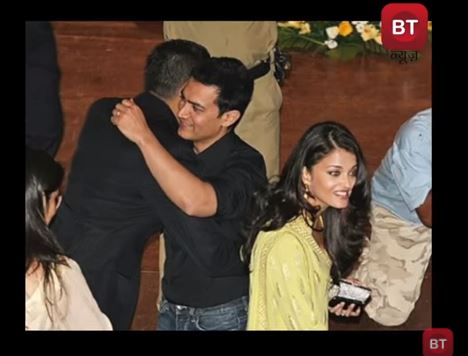 At the time, Aamir had requested his good friend Rani Mukerji to step in for the film Mangal Pandey. They refused to even acknowledge each other and didn't even talk to each other. Then one fine day, they spoke as long lost friends and as if nothing had gone wrong between the two. It was Akshay Kumar's tenth wedding anniversary and the star had invited the whos who of the industry. Aishwarya had come much before Aamir arrived. Normally, Ash leaves most parties in not more than 10 minutes. However, at this one, when she learnt that Aamir and Kiran were on their way, Ash decided to wait. When Aamir and Kiran arrived, Aishwarya met Aamir and spoke to him warmly. They discussed quite a few things including Kiran's film Dhobi Ghat. Both Ash and Aamir were together at the party for some time but Aamir had to leave early, so he left with Kiran. But it seems nothing is over between them. Because recently Karan Johar decided to bring this amazing pair opposite each other for the first time, but this time Aamir Khan decided to reject the film opposite Aishwarya.