The Lahore Arts Council (LAC) took measures on the syllabus of Alhamra Academy of Performing Arts and faculty hiring on Wednesday.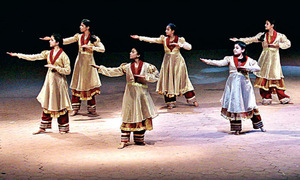 The meeting, headed by LAC Executive Director Atta Muhammad Khan, decided that teachers of music, dance, singing and other classes would submit their course outlines to the executive director in 15 days while the council would prepare a summary on the faculty needs.
Performing arts students will wear identity cards on the premises of Alhamra. Mr Khan said the classes, usually taken as a hobby, would be turned into diploma and degree courses and the council had signed an accord with the Punjab University Musicology Department and more such agreements would be signed with other cultural organisations.
A second such meeting will be held where artistes, educationists, teachers and the administrative staff of Alhamra will discuss the measures.
The executive director said there was an immense talent in both visual and performing art fields in the country, which the academy would tap through streamlining the academy courses.