Pakistani model Amna Babar has bashed a gang of three men who harassed and stalked her as she ran errands in her hometown Lahore yesterday.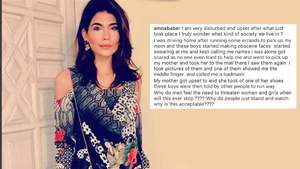 In a now viral Instagram post, Amna shared that the men made obscene faces and gestures towards her and even called her names. They followed her from the road into a mall she had taken her mother, she shared
Amna further shared that even though she was harassed in broad daylight, noone told off the harassers and it was only when her mother made a threatening advance towards them that they dispersed.
The experience left Amna shaken and with a lot of questions: "Why do men feel the need to threaten women and girls. When will this ever stop??? Why do people just stand and watch why is this acceptable???"