The singer collaborated with Tulsi Kumar for track 'Paniyon Sa' and shared the track on his social media, saying that the music 'will turn your daze, into a golden haze'. However, we feel like it falls short when compared to some of his previous work.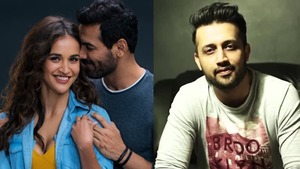 'Paniyon Sa' has a sweet, slow melody and while it may be not be Atif's best performance, it will definitely leave his fans wanting more. The track felt like it needed an oomph and after hearing some of his better works, we know he could've provided said oomph.
In the video we see John Abraham, a cop very similar to other Bollywood commercial cops, romancing Aisha Sharma, a scene all too familiar for Bollywood fans.
Written and directed by Milap Milan and produced by Emmay Entertainment, Satyameva Jayate is set to release this year.