Special Report by Asghar Ali Mubarak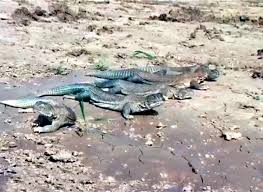 Hate to extract the oil. After using a syringe to pour it into small vials, the quacks sell the headache-cum-impotence 'cure' to their buyers, which oddly enough, seem to mostly be school and college-going students.Although it is not listed as endangered, the popularity of this oil has contributed to a steep decline in the RAWALPINDI:
Cure-alls are a regular offering at stalls and shops run by quacks. In Rawalpindi's Raja Bazaar, about 40 quacks sitting along the footpath are selling an oil-based concoction famed to be a cure for pains and problems related to the head, ears, back, kidneys, and various muscles.
However, according to a quack the oil is extracted from the body of the Hardwicke's spiny-tailed lizard  A brown reptile that can grow to over 45 cm in length and is found in the deserts in provinces. A vial containing 2ml of oil extracted from the lizards is available for Rs 680. The lizards are caught and sold to quacks for just Rs; 30. The quacks then cut open the lizards and disembowel them. With the internal organs removed, the carcass is then population of this animal in some areas.
Dr Ali who runs a private clinic in Raja Bazar, told that the oil is dangerous.
"Killing a lizard with a razorblade or scissors is not only unhygienic but also very hazardous for human health," he said, adding that using any such unproven product is tantamount to inflicting self-harm. He said it is a sheer violation of health safety rules and the concerned authorities should immediately ban such practices in the city.
An official at the Wildlife Department, told that laws against netting endangered species of birds, reptiles, or animals are already there, but when came to implementation, the authorities were silent.
Safeguarding the endangered species is essential for keeping balance in the ecosystem, the official explained.
However, Pakistan Wildlife Foundation Chairman Waseem Ahmad said the lizard has not been included in the list of protected species yet, which is why its hunting is going unchecked. He admitted its population is waning and the animal could vanish if appropriate measures were not taken soon.