Islamabad; By:Asghar ali Mubarak
The UN Secretary-General Mr. António Guterres said the international day therefore serves as a reminder "to stop and listen to the victims and survivors of terrorism, to rise up their voices and recognize the impact terrorism has on their lives."I Asghar Ali Mubarak lost real younger brother Mazhar Ali Shaheed in terrorist attack in December 2013 at Rawalpindi Pakistan. Mazhar Ali Mubarak embraced Martyrdom when terrorists force opened fire on him. The incident occurred near his house Dhoke Husso Rawalpindi road. He was 28 years old.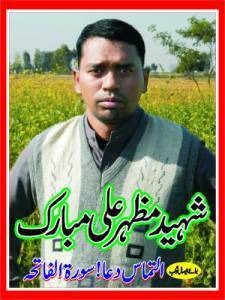 I myself was along with my martyr brother along with sisters after coming to attend a religious meeting. ''I supported the recent statement by UN Secretary-General Mr. António Guterres in which the UN Secretary-General António Guterres stated "Supporting victims and their families is a moral imperative, based on promoting, protecting and respecting their human rights," their courage in the face of adversity is a lesson to us all, UN chief said.UN Secretary-General Mr. António Guterres comments came in a message on Tuesday to mark the International Day of Remembrance of, and Tribute to, the Victims of Terrorism. UN Secretary-General Mr. António Guterres stated that"Caring for victims and survivors and amplifying their voices helps to challenge the narrative of hatred and division that terrorism aims to spread. We need to provide victims with long-term assistance, including financial, legal, medical and psychosocial support". He recalled that this week marked the 15th anniversary of the bombing of the organization's compound in Baghdad in which 22 people were killed, while some peacekeeping operations are under constant threat. Terrorism continues to pose a serious threat to international peace and security, and Mr. Guterres pointed out that the UN, too, is regularly targeted. Although more countries are being affected by terrorism; the UN said most victims can be found in just a handful, namely Afghanistan, Iraq, Nigeria, Somalia and Syria. "But after terrorist attacks, we rarely hear about those who were killed and injured; the ordinary women, men, girls and boys, who were going about their daily business when their lives ended or were changed forever," Mr. Guterres continued. "We rarely hear about their surviving families, friends and communities, who must learn to live with the burden of terrorism for their entire lives."The UN chief said the international day therefore serves as a reminder "to stop and listen to the victims and survivors of terrorism, to rise up their voices and recognize the impact terrorism has on their lives.""International Day of Remembrance of and Tribute to the Victims of Terrorism "mean while the Pakistani Prime Minister Imran khan in his message on the eve of first ever International Day for Victims of Terrorism, the Government of Pakistan and its people venerate and pay tribute to all those who have suffered immensely at the hand of the terrorists. It is also indeed a day to thank and honors our law enforcement agencies and armed forces that have rendered immense sacrifices to ensure the safety and security of Pakistan and its people. Pakistan has been one of the worst victims of terrorism, suffering thousands of casualties in this war, of both civilians and security personnel. We particularly hold in our thoughts and prayers the victims of heartless and brutal attack on Peshawar Army Public School that resulted in loss of more than 130 precious lives. Lives that were lost too early and lives that we will never forget.Despite these lose, our resolve to fight terrorism remains unwavering. In the face of every tragedy, the resilient Pakistani nation has shown that the values of enlightenment, compassion and empathy that bind us together, are much stronger than the forces of intolerance, hatred, and violence that aim to divide us.As we commemorate this day across the globe, our remembrance of the victims must go beyond mere words. The international community must jointly take actions to support the victims of terrorism. On its part the Government of Pakistan has taken a number of measures to support victims of terrorism including rehabilitation of temporarily dislocated persons, rebuilding damaged infrastructure, and payment of monetary compensation to the victims and their families. We stand with the International Community to eliminate this menace and reiterate to take joint actions to extend all support to those who have been the victims of terrorism.Anti-terrorism legislation is laws with the purpose of fighting terrorism. They usually, if not always, follow specific bombings or assassinations. Anti-terrorism legislation usually includes specific amendments allowing the state to bypass its own legislation when fighting terrorism-related crimes, under the grounds of necessity. Because of this, suspension of regular procedure, such legislation is sometimes criticized as a form of lois scélérates which may unjustly repress all kinds of popular protests. Critics often allege that anti-terrorism legislation endangers democracy by creating a state of exception that allows authoritarian style of government.Every year on May 21 Anti-Terrorism Day observed worldwide to spread awareness among the people about the danger of terrorism and violence.

Many victims, relatives and friends of victims, political leaders and representatives of associations attended the commemoration, organized within the framework of the International Day of Remembrance of and Tribute to the Victims of Terrorism, instituted last year by the United Nations.Flowers were laid at the foot of the stele and special prayers and one minute silence was observed during the different ceremonies, attended mainly by survivors of terrorist attacks and relatives and friends of the victims
One of the survivors Asghar Ali Mubarak , who was in along with his brother Mazhar Ali during the terrorist attack at Rawalpindi on his social media statement stressed that '' international day '' was, in fact, necessary. "It is happening throughout the world," "Everyday people are dying or are afraid of receiving terrorist attack on their heads. This type of day allows us never to forget, even if we wish to move on."
In Pakistan no official ceremony was arranged in this regard it is very unfortunate attitude by government and entire media, only messages are not enough in this regards. It is to be mention here that shaheed Mazhar Ali Mubarak was martyr in terrorist attack in 2013 at Rawalpindi.