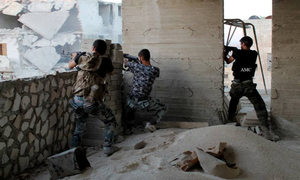 THE soldier was grinning, his wounds bandaged but blood still on his hands. He had the weary, cynical, joyful eyes of a man who had survived. Gunfire cracked around the little concrete hut in which he talked, outgoing mortars and a tank that blazed away into Jobar every few minutes from an outcrop of the Qassioun mountain.
"They came in their hundreds," he said. "They came in suicide cars and when we tried to rocket them, they came out of tunnels under the ground." There were, said his comrades, maybe four thousand in all. Jabhat al-Nusra, of course, one of the brand names of Al Qaeda that now dominate the rebel forces in the area. And then another soldier said something strange. "They talked in classical Arabic."
But, yes of course, they would, wouldn't they? A literary language, the language of the Quran. The wounded soldier repeated this. "They shouted Allah-u-Akbar, over and over again. Yes we've talked about it among ourselves, what makes these people fight, this Wahabi-Salafist ideology."
For this man, the battle started at 5am on Monday and finished three hours later when a bullet smashed into his arm. He still doesn't know how he escaped. By evening that day, the gunfire was scarcely half a mile from the gates of the ancient Roman city.
Up close to the old international highway to Homs and the north of Syria, there are now spanking new Russian main battle tanks reversing in clouds of black dust, anti-aircraft guns to fire over open sights and a batch of mortars that sent shells quivering over our heads today into the great, smashed industrial estate of Jobar, a wasteland of vast concrete and iron factories into which the Nusra men — one junior Syrian officer said they numbered in all a staggering 4,000 — emerged on Monday.
At one point this week, some Damascenes feared that Nusra might break into the very centre of the city, and Gulf TV presenters gleefully announced the news. "They" didn't make it, although I found a Syrian TV crew permanently stationed in Abassiyeen square, partly, I suspect, to prove Al-Jazeera and the other anti-Bashar [al-Assad] Gulf channels are lying if they claim that Nusra have crossed the broken sports stadium on the eastern side.
But what was it about, this sudden explosion of Nusra fighters this week? To mark the start of Syria's revolution seven years ago? To take the shine off the detritus of eastern Aleppo after the government's capture of the enclave? Or — and this was the favourite within the Syrian army today — an opposition game to give its divided leadership more power to win points and wreck the latest round of "peace" talks in Geneva this week.
Either way, it appears to have run itself into the ground. Syrian troops are back inside the dust of the factories, digging their own tunnels now and the tanks up on Qassioun are pouring their fire onto the highway between Qaboun and Jobar to prevent the Nusra forces moving reinforcements of ammunition and food to the south.
The civil population of this partly middle-class suburb, Sunni Muslims for the most part, fled their homes here years ago so this is an all military battle, fought between men who have come to like fighting, the army yet again claiming a victory. One soldier said he thought 500 Nusra men had been killed. As usual, no one spoke of prisoners.
Maybe, the best way of illustrating how this latest phase of the Syrian war is being fought is to let soldiers talk for themselves. Here is the wounded soldier. "We were in the textile factory and at 5am [on March 20], we saw a suicide car coming towards us. We knew it was coming, we tried to rocket it. They were shelling us. One car bomb was near our factory and it exploded and it made a break [in the wall] in the north front of the factory. We regrouped, but in minutes they were sneaking in from the other side of the factory. Then, another group came out of a tunnel, to the left of the factory. Then, there was another huge suicide bomb driven at us."
The same soldier's colleague spoke of more car bombs. "On the second day, it was difficult to move because of the huge amount of damage and all the smoke. We retook all the territory we'd lost and encircled hundreds of them. It was a fierce battle but then another suicide bomber came at us. This time it was a BMP [a Russian armoured vehicle, probably captured from the Syrians in the early stages of the war] full of explosives. We stopped them reinforcing from Qaboun [to the north]." There was another car bomb, some of the fighting taking place this time inside the ruins of yet another factory.
Even given the tendency for soldiers to exaggerate their abilities, it's clear that the Syrian army has recovered much ground. But can they hold it? There's a lot of machine-gun fire and artillery fire being sent into Jobar by the army now — and remember, much of this area has been a Nusra stronghold for years — but where does all the Nusra ammunition come from?
I spoke to a soldier in Seif al-Dawla street close to a tracked anti-aircraft gun draped with iron nets to shield it from anti-armour rockets. "A month ago, we raided a house at Barzi [north of Damascus] and we found more drones than you can imagine. Where did they get them?" There is some debate among the soldiers. Many, with varying degrees of contempt, blame Turkey, Qatar, Saudi Arabia and the US in that order, although Nusra is also still fighting with guns and vehicles originally captured from the Syrian army itself.
"Everything that happens here is linked to something else — attacks and peace conferences," Raed said. He was a 25-year-old volunteer soldier from Idlib standing next to an old traffic warning sign of better days which cautioned motorists that they were approaching "dangerous corssroads". Dangerous indeed. There's an unhappy dividing line west of Jobar where the wedge of apartment blocks between there and the old city is almost all Christian, but this war has now taken on such routine that I found soldiers casually speeding off on motorcycles to buy sandwiches.
Another climbed wearily from the back seat of an old yellow city taxi, Kalashnikov in hand, roughly bearded. But you've got to refocus on the tired guy with the AK. A soldier comes to war by taxi. Now that's something to think about. And in a weird way, more impressive than the clutch of monstrous new tanks I watched a mile away, next to the smoke of Jobar.
By arrangement with The Independent