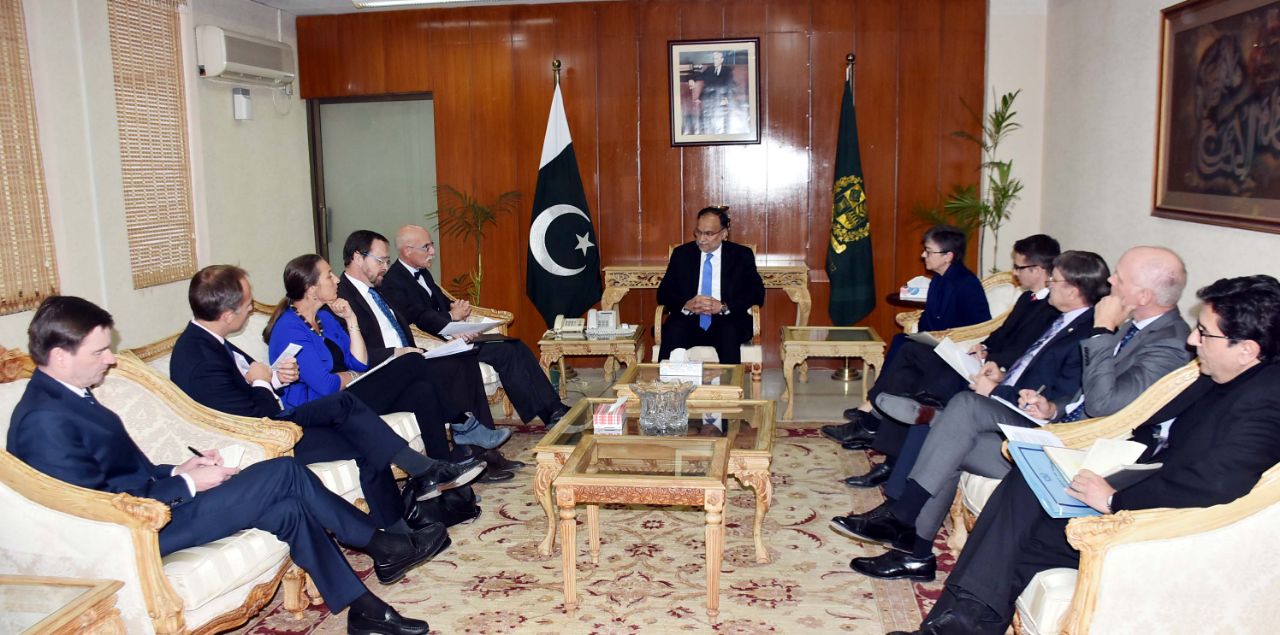 Islamabad: By.Asghar Ali Mubarak: :A delegation of Ambassadors called on the Interior Minister Professor Ahsan Iqbal in Islamabad today.  Delegation comprised of Ambassador of Eurpoean Union to Pakistan , H.E.Jean Francois Cautain ; US Ambassador to Pakistan , H.E. David Hale; Australian High Commissioner , H.E. Margaret Adamson; Canadian Ambassador , H.E. Perry Calderwood ; Norwegian Ambassador , H.E Tore Nedrebo; British High Commissioner Thomas Drew.
In the meeting, Interior Minister asserted that INGO's play a vital role in the development sector and areas like eradication of poverty and disease from country and their contribution in Pakistan for social –economic development and uplift is always welcomed and commendable.   However, the peculiar circumstances in Pakistan calls for monitoring the operations and funding sources of INGOs to ensure that no extremism related NGO is able to secure foreign funding.
Interior Minister said that the applications of INGOs rejected for registration have mostly been done on the grounds of non compliance with the requisite registration process. He added that the criteria for the registration process of INGOs will be transparent and applicable across the board.
Interior Minister stated that the registration policy has been revised and now the INGOs whose applications were not approved can operate in Pakistan until the final decision on the appeals of INGOs is taken. If the appeal of any INGO is rejected by the appellate authority, then it will have to close its operations from Pakistan within sixty days.
Interior Minister also said that Pakistan hosts 3.5 Million Afghan refugees. it is also the collective responsibility of international community to join hands with Pakistan to speed up repatriation process of Afghan refugees to home in order to help in peace building efforts.
Interior Minister said that Pakistan always endorses the peaceful political settlement of Afghanistan and has biggest stake in stable Afghanistan.