Capoeira classes will held at EMBASSY OF BRAZIL,from 19th November at Islamabad
Islamabad, November 8, 2018
By; Asghar Ali Mubarak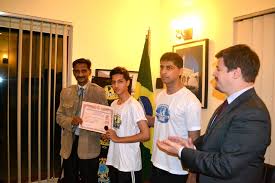 The Embassy of Brazil in Islamabad is starting regular Capoeira classes from 19th of November at the Embassy of Brazil. according to Press release issued by Brazilian embassy Islamabad the advance registration which can be done by emailing your Full name, CNIC/ID number and Telephone Number to the following
address: CapoeiraatBrazilianEmbassy@gmail.com. Capoeira is an Afro-Brazilian cultural manifestation as well as an Intangible Heritage of Humanity (UNESCO, 2014). It is a social ritual of the African diaspora (that developed in response to the brutality of slavery) as well as an art form encompassing self-expression through dance, martial art, song, music and culture as elements within a spontaneous game of physical and mental dialogue between two players. Regular classes will start on the 19th of November at the premises of the Embassy of Brazil in Islamabad. More information about these classes can be obtained by writing to the above email address. The event of the official launch of the course will be at the Embassy, on Saturday, November 17th, 4 p.m., with the professor Amar Latif, who will deliver a presentation on the history of Capoeira. Those interested in attending the event, should confirm till coming Wednesday, November, 14th, through the e-mail administ.islamabad@itamaraty.gov.br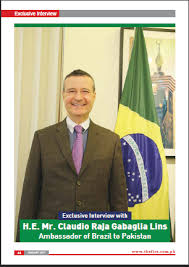 About the Teacher: The Classes at the Embassy are taught by Amar Latif, who is Pakistan's pioneering
teacher of this art. Since the formation of his first group in Islamabad (Capoeira Paquistao, still active today) in January 2007, he has been working to integrate a community of "Capoeiristas" as well as to establish the presence of Capoeira as a cultural art form in Pakistan. He is a student of Master Anastacio Marrom, from Rio
de Janeiro, and has been playing Capoeira (it is a multifaceted game so it is "played") for over 20 years and teaching actively for 12 years. From October 2016 to May 2018 he was training and teaching Capoeira in South America (Brazil and Peru) and since returning to his homeland he has once again been active in facilitating classes for all interested.