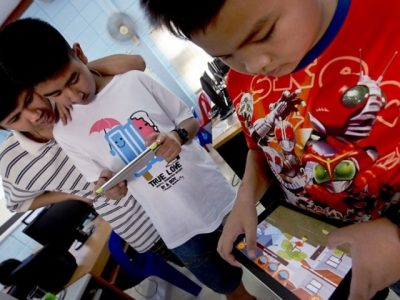 By News Desk
Children who spend more time on social media are likely to feel less happy in most aspects of their lives, a study has revealed.
The research, published in Social Science Research Network [SSRN], was conducted by a team of economists at the University of Sheffield who found that the use of social media apps including Facebook, Snapchat, Instagram and Whatsapp makes youngsters experience less satisfaction when it comes to other parts of their lives like their school life, work, family, appearance – basically life in general.
Children who spend more 3 hours in front of a screen are at a higher risk of getting type 2 diabetes
The study, however asserts that those children do feel happier about the friendships in their lives.
According to the researchers, spending just one hour a day online can reduce the chances of a child's happiness over his or her life by 14 per cent.
The study, which asked 4,000 children in the age bracket of 10-15 years to rate how happy they felt about their different aspects of their lives, also found that girls are more adversely affected than boys –  concluding that girls were more likely to be displeased about their appearances and the school they attended. It also added that social networking encouraged negative social comparison.
"The problem with making comparisons in online media is that people tend to portray themselves in an idealised state," said one of the researchers, Philip Powell. "There is evidence that people think other people are happier than them after interacting with them online because we tend to post videos and chat that presents this positive image."
Facebook addiction could lie in your genes
Powell suggests cyber bullying may be influencing the connection between children, unhappiness and social media usage.
"There's evidence the longer young people spend online the more likely they are to be victims of bullying."
The team split data to compare effects of social media with low and high self-esteem in children and found that the impact was worse on those who lacked self-confidence.
"Our findings show that social media use can be detrimental on average to young people and this is consistent with a number of findings in previous studies," Powell said. "We can't say any social media is bad but we can say that the more social media children use, the higher the likelihood that they will be dissatisfied with different domains of their life and their life overall."
This article originally appeared on the Guardian