By.Asghar Ali Mubarak, December, 10, 2018
Islamabad:The Chinese Vice Foreign Minister Kong Xuanyou called on Foreign Minister Shah Mahmood Qureshi in Ministry of Foreign Affairs, Islamabad on December 10, 2018.
Foreign Minister congratulated Vice Minister Kong on successful conclusion of Pakistan-China Bilateral Political Consultations. He said that Pakistan-China friendship has deep cultural, historical and institutional linkages and has become an 'All-Weather Strategic Cooperative Partnership'. Recalling Prime Minister's Imran Khan successful visit to China in November, Foreign Minister said that it marks a milestone in the history of bilateral relations and has deepened the bond of trust and friendship between two nations. He highlighted that CPEC has added yet another dimension to bilateral ties and reiterated Pakistan's commitment to complete this project as envisaged by the leadership of both the countries. He said that he is looking forward to participate in the 2nd meeting of China-Afghanistan-Pakistan Foreign Ministers' Trilateral mechanism to be held in Kabul on 15 December, 2018.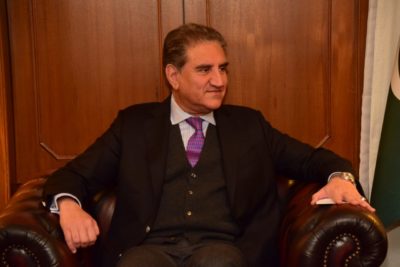 While reciprocating the sentiments of Foreign Minister Qureshi, Vice Foreign Minister Kong said that China attaches paramount importance to its relations with Pakistan. He expressed satisfaction at the momentum of bilateral relations and underscored the need to further enhance ties in political, economic, defense and cultural spheres. He appreciated Pakistan for its efforts to achieve goals of national development and extended China's utmost support in this regard.
Both leaders also exchanged views on regional situation and multilateral issues of mutual concern and agreed to deepen strategic coordination and communication at all levels.