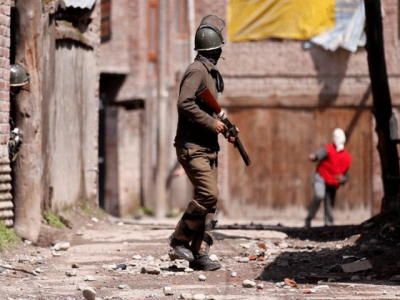 By News Desk
Indian forces on Monday killed four more Kashmiri youth, a day after clashes with Kashmiri protesters killed eight people and injured over 200 in Indian-occupied Kashmir (IOK), pushing the number of deaths in the disputed valley to 12.
According to the Kashmir Media Service, Indian forces killed the Kashmiris during a military operation in the Keran area of Kupwara district, Radio Pakistan reported.
Meanwhile, Indian police on Monday imposed curfew-like curbs on the movement of people across several parts of the Kashmir valley to ensure the Indian by-election polls are conducted successfully.
Kashmiri leaders called for a two-day strike in protest following which the polling was halted in more than dozen places on Sunday. Their calls to boycott the polls in Srinagar, and the ensuing violence, resulted in a voter turnout of a mere seven per cent yesterday and forced 70 polling stations to shut down.
Indian forces killed eight Kashmiris during clashes with peaceful protesters in Budgam, Srinagar and Gandarbal districts, on Sunday.
During the clashes in Budgam district, Indian security forces initially used tear gas against stone-pelting protesters but then opened fire, killing seven people, a senior police official told Reuters. One Kashmiri was killed in a separate incident.
Security was beefed up on Monday across the Himalayan region, with police blocking roads with barricades and restricting movement of vehicles. Some train services were also suspended in the region, a railway official said.
Sunday's by-election was planned for Srinagar to fill a vacant seat in India's lower house of parliament, the Lok Sabha. A second by-election in the state is set to take place on April 12 in Anantnag.
"We are worried about Anantnag polls because it is a more sensitive area," a police official said.
Former state chief minister Farooq Abdullah, who is also contesting the Srinagar seat, slammed the Indian government for its failure to maintain law and order. "Elections should have been peaceful. This government has failed in giving a peaceful atmosphere for people to come and vote," he told reporters.
Ahead of the polling, the Indian authorities had suspended internet services across the occupied valley fearing protests. They had also sent 20,000 paramilitaries to IoK to reinforce the 500,000 Indian soldiers already deployed there.
The Indian police also detained hundreds of young people and separatist activists in the run-up to the polls.
Kashmir has been a disputed region between Pakistan and India since independence from Britain in 1947. Two of three wars have been fought over the valley.
Indian-occupied Kashmir witnessed deadly protests in 2016, after a popular separatist leader, Burhan Wani, was killed by Indian forces. Last September, tension escalated when at least 19 Indian soldiers were killed in an assault on an army camp in Kashmir, an attack India blamed on Pakistan-based militants.
Pakistan condemns IOK killings
Prime Minister's Adviser on Foreign Affairs Sartaj Aziz on Sunday strongly condemned the brutal killing of civilians by Indian security forces in the IOK.
"Eight youths, including a 12th-grade student, were brutally killed by Indian occupation forces, who opened fire on peaceful demonstrators protesting against the sham Indian parliamentary elections in Budgam, Srinagar and Gandarbal districts," Sartaj said.
"The abysmally low voter turnout of below six per cent, the lowest in 30 years, is a tangible indication that the Hurriyat leadership and the people of IoK have categorically rejected the sham elections, which cannot be an alternative to the right to self-determination promised to them under numerous UN Security Council resolutions."
Foreign Office Spokesperson Nafees Zakaria had said in a tweet that Pakistan would continue to extend diplomatic, moral and political support to Kashmiris in their indigenous movement for self-determination.
With additional information from Reuters.