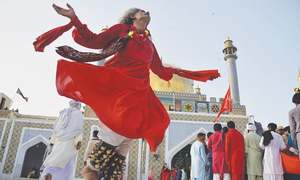 SEHWAN: While the 765th Urs of Hazrat Lal Shahbaz Qalandar got under way peacefully amid extraordinary security arrangements in the wake of a suicide bombing at the shrine some three months ago, nearly half a dozen people died in Sehwan on Monday when mercury soared to 47 degrees centigrade.
Traditionally, the chief minister inaugurates the Urs but as he was in China along with Prime Minister Nawaz Sharif, Sindh Governor Mohammad Zubair inaugurated the three-day event along with provincial ministers Nisar Ahmed Khuhro and Syed Nasir Hussain Shah by laying a chador and floral wreaths on the saint's grave.
After formally opening the Urs, the governor said the Feb 16 blast that had left over 80 devotees dead and 250 injured failed to deter devotees from visiting the shrine as they continued to pour in from all parts of the country and abroad in large numbers.
He said the steps taken by Chief Minister Syed Murad Ali Shah and his cabinet in the wake of the blast were commendable.
In reply to a question about payment of compensation to the blast victims, the governor said it would be done after the Urs. He reiterated the government's assurance that the heirs of all the victims would surely receive compensation.
Sizzling Sehwan
As Sehwan town and its adjoining areas baked on Monday with maximum temperature rising to 47 degrees Celsius, at least five devotees died apparently from heatstroke on the first day of the Urs.
The deceased hailing from Balochistan, Sindh and Punjab were aged between 40 and 65.
Four of the five deceased were identified as Akbar, 50, son of Mohammad Altaf, a resident of Karachi; Mohammad Iqbal, 40, son of Khalil Ahmed, a resident of Multan; Sajid Ali, 40, son of Ghulam Nabi Soomro, a resident of Jhat Pat, Balochistan; Mohammad Paryal, 60, son of Mohammad Ismail, a resident of Makrani Mohalla, Sehwan. However, a 65-year-old man who was found dead near taluka hospital in Sehwan remained unidentified.
Nisar Ahmed, the official in-charge of Edhi Centre in Sehwan, said volunteers shifted the bodies of four victims to their native towns in ambulances.
Suspected policemen held
Two constables of the Multan police were caught while trying to force their way into the shrine without undergoing a body search, said Jamshoro SSP Tanvir Alam Odho.
He said the policemen from Multan were acting suspiciously. They were picked up for interrogation, the officer added.
120 held
Meanwhile, the area police also detained 120 devotees for allegedly violating a ban on swimming in the Indus River, Aral head and Aral Wah canals of Manchhar Lake, saline water drain and RBOD-II.
Jamshoro SSP Odho said 40 children, women and elderly men had already been released while 80 people were detained at the Sehwan police station.