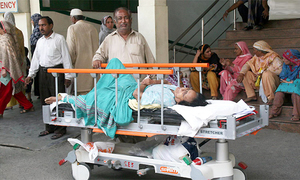 THE NEWSPAPER'S STAFF REPORTER
LAHORE: Medicines-resistant cases of tuberculosis are on the rise primarily because most patients stop treatment half-way when they have side effects including vomiting, rashes, jaundice and serious nerve damage.
In order to check the spread of drug-resistant TB, the fully automated Gene-Xpert machine will be provided at all the district headquarters hospitals for a rapid and sensitive test to diagnose the infectious disease which is one of the greatest killers all over the world.
A decision to this effect was taken during the monthly meeting of Chief Executive Officers (Health) held in the Punjab Health Services Directorate-General here on Sunday.
Presided over jointly by Specialized Healthcare and Medical Education Minister Khwaja Salman Rafique and Minister for Primary and Secondary Healthcare Khwaja Imran Nazir, the meeting discussed in detail the challenge for TB resurgence and revamping of its ongoing control programme.