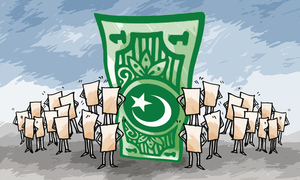 KARACHI: Iraqi Ambassador in Pakistan Dr Ali Yasin Mohammad Kareem has said there is a lot of attraction and opportunities for investment in Sindh, particularly in Karachi, and Iraqi entrepreneurs are keen to make investment in the metropolis.
The Iraqi investment would strengthen Pakistan-Iraq relations, he said during his meeting with Sindh Governor Mohammad Zubair at Governor's House on Tuesday.
They exchanged views about Pak-Iraq economic coordination in different fields, opportunities of investment in the province and matters of mutual interest.
The ambassador said that like other countries of the world, Iraq also conceded that peace was restored and law and order improved in Pakistan. He said that Pakistan's armed forces got their capability recognised by the world in a difficult war against terrorism by making the 'impossible war' possible.
Responding to the views of the Iraqi ambassador, the governor said that Iraqi investors' interest in the province, Karachi in particular, would further promote bilateral relations. He said that because of its geographical location, Pakistan's role in promoting peace was extremely important.
He said Karachi, being a major industrial and business centre, was the economic hub of Pakistan and investment by foreign entrepreneurs would give a boost to the image of Pakistan. The governor said that Iraq was a friendly Islamic country whose ties with Pakistan spread over several decades and their relations also existed at the level of the people of the two countries.
The Iraqi ambassador later also called on Karachi Mayor Wasim Akhtar at his office in the KMC building where they discussed areas which could be explored to further increase the trade relations between the two countries.
Pakistan-Romania Business Council
Besides the Iraqi ambassador, a 12-member delegation of Pakistan-Romania Business Council, led by Sohail Shamim Firpo, called on the governor and discussed bilateral economic relations, investment opportunities in different fields and other matters of mutual interest.
The governor pointed out that Pakistan's economic future was linked with the economic progress of Karachi. After restoration of law and order, the city had become an ideal place for investment, he said, adding that Romanian investors ought to be informed about the atmosphere conducive for investment as the government was providing every possible assistance, security and cooperation to the investors.
Mr Zubair said with the completion of China-Pakistan Economic Corridor, a new era of development and prosperity would dawn in Pakistan that would generate opportunities of employment and business.
The delegation informed the governor that Romania was also keen to participate in CPEC.
Mr Firpo said that Pak-Romania Business Council was striving to increase volume of mutual trade and strengthen further mutual interest. At present, he said, Pakistan was exporting textile, leather goods and cotton to Romania.
I Am Karachi
Talking to a delegation of "I am Karachi", Gov Zubair said he was proud to be a Karachiite and said it was the responsibility of all residents to restore its lost glory and make it a modern developed city of the world.
The governor said that the overall atmosphere in Karachi after restoration of peace had become conducive for investment as economic, cultural, social and literary activities were being organised at every level till late night. "Karachi once again is becoming the City of Lights," he added.
He assured his cooperation to the civil society organisation.