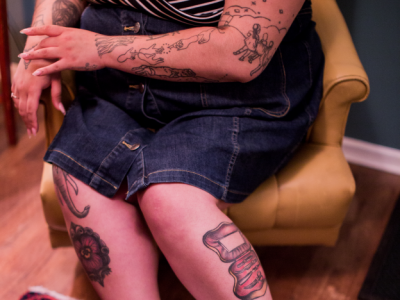 Blame it on Instagram: Even people who don't consider themselves as the tattooing kind start to crave a little ink after seeing post after post of dope designs. Between delicate and minimal options, watercolor tattoos, and crystal-clear, single-needle creations, there really is something for everyone. According to a 2016 Harris Poll, nearly half of Americans aged 18-35 have a tattoo — and most folks who have them, no matter what their age, don't stop at one. So if getting inked for the very first time is likely to lead to doing it over and over again, then knowing what you're getting into is more important than ever.
We talked with tattoo artist Georgia Grey, a resident at New York's legendary Bang Bang tattoo shop. (You know, the New York institution that serves as the place for celebrity ink: Rihanna, Cara Delevingne, Jourdan Dunn, Adele, Justin Bieber, and Selena Gomez are just a few of the famous clientele who pop into the shop for tattoos.) Not only does Grey do the most enviable watercolor and origami designs, she specializes in working with first timers.
Ahead, the artist with nearly a decade of experience under her belt answers all our burning questions — and sets the record straight about some controversial practices.
First things first: Let's talk about the pain.
Grey admits it can be painful for many — and suggests a mind over matter approach. "I always recommend [clients] focus on their breathing during a tattoo. Take your mind elsewhere, if possible. Pain is beauty and it's only temporary, so just breathe easy and it'll be over before you know it," she advises. And if that doesn't work? Well, there are always topical anesthetics made especially for tattooing that can be used to take the edge off.
Fresh tattoo pics on Instagram always show shaved skin. Should this be done the night before?
When it comes to knowing what to shave, and when, in preparation for a tattoo, let the the age-old Biggie lyric be your guide: "No need to worry, my tattooist handles that." Or as Grey says: "When it comes to shaving the skin for a tattoo, it's best to let the artist do it the day of the tattoo. You can always trim in advanced if you're on the hairier side."
Pain is beauty and it's only temporary, so just breathe easy and it'll be over before you know it.
Does skin need to be perfectly clear? What about zits, cuts, or scars?
Your area of placement should be one that's free of body acne and fresh wounds, Grey says. "Scars can be worked with, depending on skin and the age of the injury," she says.
Are there any rules surrounding self tanner or spray tans?
"Getting a self tan before a tattoo doesn't necessarily effect the tattoo, but during the tattoo process much of it will most likely be removed, so I would avoid it or do it a few days in advance — just so [the tanner is] fully settled into the skin," she says. As for after the tattoo, you will want to wait two weeks to a month before getting spray tanned or wearing self tanner over the tattoo. This will give time for the tattoo to fully heal and nix the chance of developing an infection.
Any other tips on how to prep for your appointment?
Grey's wisdom is choice: "Always avoid partying the night before and eat a good meal before coming in," she says.
If you envision pregnancy in your future, are there places on the body that may not be the best choices to get inked?
If you plan to be pregnant some day and don't want a tattoo design to stretch with your growing body, then Grey suggests avoiding placement on the pelvic region, abdomen, and possibly ribcage, depending on the person (and pregnancy).
Should you plastic wrap a fresh tattoo? And if so, how long should plastic wrap stay on the new design?
Grey says the great plastic wrap debate is a controversial one in the tattoo world. "Some artists recommend keeping the tattoo wrapped for multiple days, changing the wrapping every few hours, and some recommend avoiding plastic wrap all together," she explains. Grey's take falls somewhere in the middle. "Depending on the location of the tattoo, I often recommend wrapping the tattoo for the first few nights, making sure it's dry and clean before putting on the plastic wrap."
Let's talk aftermath: How long does it typically take a tattoo to heal? What's the best way to take care of it?
Healing times and care instructions can vary, depending on the work done, but Grey shares a typical Rx ahead: Immediately after getting inked, wash your tattoo every night and apply a thin layer of ointment or lotion to the design for the duration of the healing process, which typically takes two to four weeks. Avoid tanning and swimming during this time, Grey says. You'll know when your tattoo has healed because it will fully settle into the skin. If your tattoo hasn't healed in four weeks, or if it starts to ooze or swell, then book an appointment with your dermatologist, stat. Finally, if touch-ups are needed, wait at least a month to get them done.
What do we need to know about sun protection or covering up after first getting tattooed?
"After getting any tattoo, avoid sun exposure for a minimum of two weeks to a month," Grey says. And after? " Always sunscreen your tattoos. Sunscreen will keep your skin young and fresh by preventing the pigment from spreading and aging."
If you choose to get a tattoo in white ink, will it change color over time?
"How white-ink tattoos change color will vary," she says. For example: The artist has seen some white-ink tattoos develop a pink hue and scar-like appearance. "For the most part, white tattoos will turn to an off-white or yellow color when your skin tans," she says. "White ink is best for highlights in tattoos, not necessarily a tattoo all on its own."
Watercolor tattoos are so dreamy, but I hear they fade and bleed over time. Is this true?
Yes, like all tattoos, they will fade and bleed over time, Grey says, but there are a few design elements that can be used to help them hold up. "Having some sort of dark outline or dark tone in the tattoo will hold the image when placed correctly," she notes, with this caveat: "When getting a watercolor tattoo, you will most likely want to keep up with sunscreen and get a touch up every few years."
Always sunscreen your tattoos. Sunscreen will keep your skin young and fresh preventing the pigment from spreading and aging.
Stick-and-poke tattoos are very popular right now — what do people need to know about them?
The artist points out that while stick-and-poke tattoos are trending, they're more of a traditional style than a trend. "Before the tattoo machine [was invented], stick-and-poke was the only method of getting a tattoo. So in reality, the world of tattooing is taking a step backwards with [this style], in a nod to a ancient art form," she says. Grey notes that this old-school way of getting inked often results in faster healing times. What's more, it holds ink very well — as long as the artist knows what she or he is doing. Her prime advice when it comes to stick-and-poke? Make sure to have the tattoo done by a professional in a professional setting — not in a friend's friend's kitchen at 2:00 a.m.
Single-needle tattoos are also very popular right now. Is it true that they fade faster than traditional tattoos?
Single-needle tattoos need to be UV protected with religious sunscreen wear and in many cases, maintained every few years, she says. Though Grey points out, "If it's something you want on your body forever, then the maintenance won't be too much of a bother."