Looks like Faryal Makhdoom, the model wife of British boxer of Pakistani origin Amir Khan, just cannot seem to stay away from the headlines for long.
Merely a few weeks after the vicious, long-running public spat between the 25-year-old Faryal and 30-year-old Amir's parents and siblings, the glamour girl is back, this time claiming that she thought her marriage with Amir Khan would be a "fairytale" (quite a long shot, what with the toxic family feud and all).
"In my head, living with my new husband was going to be this fairytale," she said in an interview to Daily Mail.
"But it was hard and I didn't have any friends. Bolton is very backward. Compared to New York, it's a village," said Faryal, who moved to England from New York to live with her husband after marrying him in 2013.
Faryal also rebutted reports that she had had plastic surgery. Instead, she told the publication, she had resorted to 'fillers'.
"Because of lack of sleep, genes, dehydration, I get bags under my eyes and I wanted to get them lightened. So I went to my doctor, Simon [Ourian, a renowned cosmetic surgeon in LA] – he's also Kim Kardashian's doctor," she explained.
She also went for fillers in her cheeks because she "likes high cheekbones" – something for which she came under fire from her in-laws who likened her to Michael Jackson.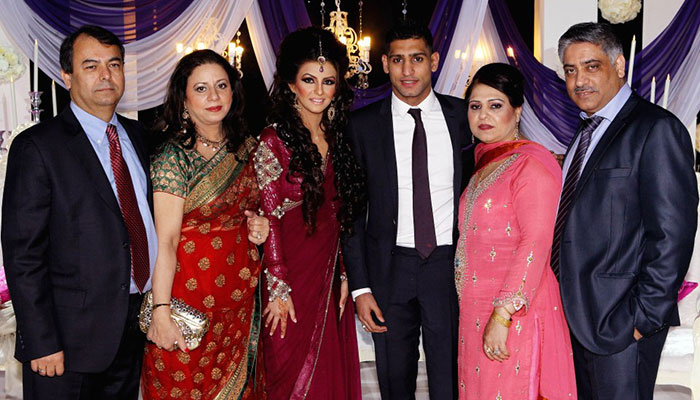 "If other women had this money and if they had a husband who was famous, they would do it, too. If I wasn't married to Amir Khan, I'd probably be a regular girl and I might not do it. But I'm in the limelight, I go to events, so it's part of my life now," the Daily Mail quoted her as saying.
Faryal also expressed her concerns on showing too much skin in pictures, saying she is a "Muslim woman, so [she'd] like to be covered up", although she has steadfastly defended her Western dressing against her in-laws' criticisms.
The couple and their families were thrown into the limelight when Faryal took to social media last year accusing her in-laws of subjecting her to verbal abuse and criticising her for her 'modern' way of dressing and living.
The accusations triggered a war of words between her and the boxer's family, with Amir Khan caught in the crosshairs. The situation became all the more embarrassing for the couple when an 'inappropriate' video tape of the boxer emerged, intensifying the feud.
The couple currently resides in a rented apartment in San Francisco, where Amir Khan is training for a comeback fight later this year.