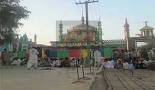 Islamabad, 5 October 2017:  Former President of Pakistan and President Pakistan Peoples Parliamentarians Asif Ali Zardari condemned the terrorists attack in Jhal Magsi at Dargah Fateh Pur. He said that not only nurseries of terror have to be eliminated but also the idea of terror which is spilling innocent blood.
Asif Ali Zardari instructed Sindh Government to look after the injured from Jhal Magsi admitted to the hospitals in Sindh.
He said that these beasts should be apprehended and punished accordingly. Asif Ali Zardari sympathized with the victims' families.