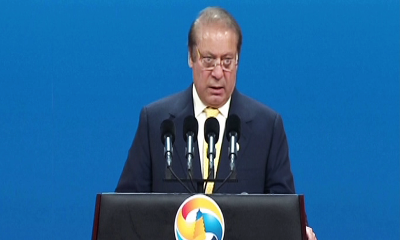 Our Desk
Prime Minister Nawaz Sharif on Sunday addressed the plenary session of the Belt and Road Forum (BRF) for International Cooperation in Beijing, where he stressed that geo-economics should take precedence over geopolitics, Radio Pakistan reported.
PM Sharif, who had arrived in the Chinese capital on Friday to participate in the One Belt, One Road (OBOR) forum, said the China-Pakistan Economic Corridor (CPEC) must not be politicised, adding that the corridor remains open to all countries.
He said that CPEC is at the core of China's One Belt, One Road initiative, which has fostered inclusion and tolerance in the region.
"We are not striving to merely leverage geography for economic prosperity; we are also trying to build a peaceful, connected and caring neighbourhood," Radio Pakistan quoted the premier as saying.
CPEC, which connects Pakistan to East and West Asia, has not only made the country a destination for cross-regional trade, but also a channel through which such trade flows, the prime minister said.
He added that efforts must be made to resolve conflict and transcend differences.
Nawaz said that "with the help of our Chinese friends an environment had been created for the China-Pakistan Economic Corridor to take off and has started to create new entrepreneurs, jobs and businesses."
"CPEC is owned and nurtured by all of Pakistan," the prime minister said during the conference.
He added that it is compatible with the country's vision for 2025, where investment is undertaken in different sectors such as energy, industry, trade and transport.
He also said that efforts were being made to bridge the gap between economic growth and social development through a focus on education, gender mainstreaming and health.
The prime minister's entourage in Beijing included the four chief ministers; Shahbaz Sharif of Punjab, Pervaiz Khattak of Khyber Pakhtunkhwa, Sanaullah Zehri of Balochistan and Murad Ali Shah of Sindh.
The BRF is part of the 'Silk Road Economic Belt and the 21st Century Maritime Silk Road' initiative launched by President Xi Jinping in 2013 and is being attended by 27 other heads of states or governments.
The China-Pakistan Economic Corridor (CPEC) is a flagship programme of OBOR.