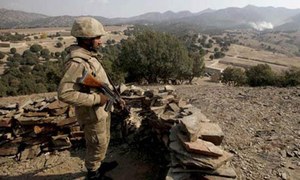 PR
A high-value terrorist and his accomplice from the Tehreek-i-Taliban Pakistan (TTP) Sajna group were killed in an operation by security forces near South Waziristan, the Inter-Services Public Relations (ISPR) said on Friday.
Mehmoodul Hassan alias Khwaja Madni and his accomplice were killed in the cordon and search operation carried out in the Frontier Region of Jandola.
The security personnel recovered weapons and ammunitions from the terrorists' hideout, said the ISPR statement.
The raid is a part of ongoing Operation Raddul Fasaad, which the army launched last month following a spate of terror attacks in the country, which claimed more than a hundred lives and left hundreds others injured.
The operation seeks to eliminate the "residual/latent threat of terrorism", consolidating the gains made in other military operations, and further ensuring the security of Pakistan's borders.
Hundreds of suspected terrorists have reportedly either been killed or arrested in raids carried out by security personnel since the start of the operation.
Weapons recovered in Sibbi
Meanwhile, Frontier Corps (FC) personnel recovered a cache of weapons in Talli area of Balochistan's Sibi district, the ISPR said.
During an intelligence based operation (IBO), FC officials recovered submachine guns (SMG), pistols, hand grenades, rifles, RPG rockets, anti-tank and anti-personnel mines and 10 kilograms of explosives.