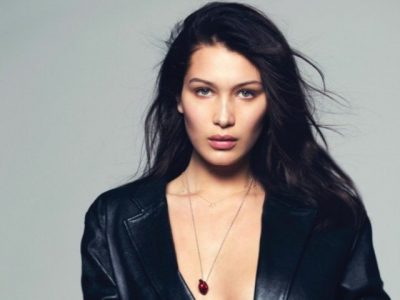 By Entertainment Desk
When US President Donald Trump first announced the immigration ban back in January, people across the world were outraged. Thousands flocked to the streets to protest the controversial executive order, including Hollywood celebrities. At the frontlines were supermodel sisters Bella and Gigi Hadid, for whom, the ban hit close to home.
The superstar sisters joined the No Ban No Wall march in downtown New York along with their mother and friends. They even displayed a hand-made sign that read "We are all human." Back then, Bella was quoted as saying, "We shouldn't treat people as if they don't deserve kindness just because of their ethnicities. It's just not right."
Is Gigi Hadid America's secret weapon to mend global ties?
  Now, over a month later, she is still abiding by her stance on the topic and understandably so, considering the 20-year-old identifies as a Muslim. Not to mention, her father Mohamed "was a refugee when he first came to America."
"Trump's immigration policy is actually very close to home for my sister and brother and me," Bella said recently. "He was always religious, and he always prayed with us," she added about her father. "As for me, I am proud to be a Muslim."
In an interview with Elle, Bella stated, "I come from a really diverse background. I've had incredible experiences all over the world and learned that we're all just people who deserve respect and kindness. We shouldn't treat others as if they don't deserve kindness just because of their ethnicities. It's just not right. And that message — to be compassionate whenever possible — that's so important to me."
Sisters Gigi Hadid and Bella Hadid join anti-Trump rally
The starlet also wished that the need for her or anyone to protest hadn't risen at all. "But the good side to this is that we're being brought together. New York is so big and to get so many people coming together peacefully, it's inspiring. I left the march really energised. I felt very optimistic afterwards," she said.
Well done, Bella!
Have something to add to the story? Share it in the comments below.