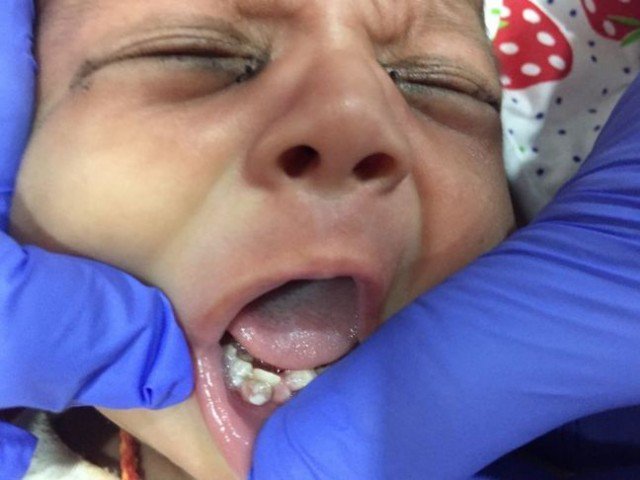 By News Desk
In a startling discovery and subsequent procedure, doctors in India's Gujarat state removed seven teeth from a month-old infant.
"The baby is doing fine now," dental surgeon Dr Meet Ramatri, who carried out the operation in August told the BBC.
The procedure, he said, was carried out in two stages. In the first stage, four teeth were extracted, followed by removal of the remaining ones.
The newborn's teeth were discovered just a few days after he was born. The worried parents took the boy to a paediatrician after he had difficulty breastfeeding.
The medical expert found white tissue in the infant's mouth and referred the family to another doctor.
"When I examined him, I found that he had seven teeth," Dr Ramatri said. "Sometimes you see tips (of the teeth) in newborns but they don't grow for a while. In this case, the teeth were fully out."
Though the doctor said he had not come across such a case before, but did not deem it to be necessarily abnormal.
"It is a normal biological process. It happened early in this case," he added.
The experts decided to remove the teeth surgically as they were not firm and, if broken off, could get stuck in the boy's windpipe, proving fatal.
"I was praying that the teeth wouldn't come off before we operated," Ramatri maintained.
The baby is able to feed now but it is early to predict if the procedure would interfere with how his teeth will grow in future.