Kulbhushan Jadhav sentenced to death for espionage in Pakistan Kulbhushan Jadhav Jadhav's mother, wife meets him at Foreign Office
By;Asghar Ali Mubarak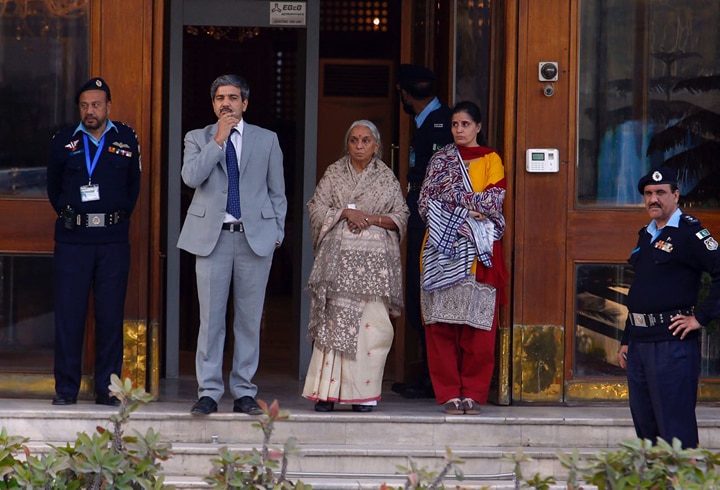 Islamabad; The Foreign Office (FO) Spokesperson Dr. Mohammad Faisal on Monday said that convicted Indian spy Kulbhushan Jadhav is the face of Indian terrorism in Pakistan.
The remarks by the FO came after Jadhav was allowed to meet his mother and wife earlier in the day. The meeting was held at the FO in the federal capital under strict security.
Faisal, during a press conference, reiterated that Jadhav is a terrorist, spy and a saboteur who was caught "red-handed" and was conducting terror attacks in Balochistan and Karachi.
Earlier the mother and wife of convicted Indian spy Kulbhushan Jadhav met him at the office of Ministry of Foreign Affairs in Islamabad on Monday amid strict security.
The meeting started at 2:18pm and lasted almost 40 minutes, according to the Foreign Office spokesperson.
Indian diplomats, including Deputy High Commissioner JP Singh, accompanied Jadhav's family and were present during the meeting, which was conducted in a specially prepared room via an intercom through a glass partition.
Foreign Office Director India desk Dr. Fariha was also present during the meeting.
Jadhav's mother Avanti Jadhav and wife Chetankul Jadhav underwent a security check before being taken to the room for their meeting, the FO spokesperson added.
After meeting him at the Foreign Office, Jadhav's family was taken to the Indian High Commission before they return to India via Oman, sources said.
Jadhav's mother thanked the Pakistan Foreign Office for allowing the meeting.
According to itinerary details obtained by Geo News, Jadhav's mother and wife flew to Islamabad via Dubai earlier today. The family arrived at the Indian High Commission from where they were taken to the Foreign Office. They will leave the country the same day after meeting Jadhav.
In a tweet, Foreign Office spokesperson Dr Mohammad Faisal shared a photo of the mother and wife of Jadhav sitting in the Foreign Office.
"The mother and wife of Commander Jadhav sitting comfortably in the Ministry of Foreign Affairs Pakistan. We honour our commitments," he tweeted. Pakistan permits the meeting of wife and mother of Commander Jadhav with him, as a humanitarian gesture, on the birthday of the Father of the nation, Quaid e Azam Muhammad Ali Jinnah.
The roads leading from and to the Foreign Office building were closed to traffic for the meeting. Walkthrough gates have also been installed outside the Foreign Office building amid strict security measures.
Commander Jadhav — an on-duty Indian navy officer working for Indian covert agency Research and Analysis Wing (RAW) — was arrested on March 3, 2016, from Balochistan, after he entered into Pakistan from Iran. He has been convicted of espionage and sabotage activities.
Opening statement on the press briefing after the meeting of the wife and mother of Commander Jadhav with him at MOFA on 25 December, 2017
This is a very important day for Pakistan, being the birth anniversary of the Father of the nation, Quaid e Azam Muhammad Ali Jinnah. It was in this light that this day was chosen for the humanitarian meeting of Commander Jadhav with his wife and mother. Today is also Christmas and our best wishes go to our Christian friends in Pakistan and all around the world.
As you are aware the meeting of the wife and mother of Commander Jadhav has just ended.
Commander Jadhav, an Indian spy, a terrorist and a saboteur is a serving Indian naval officer sentenced to death for his involvement in espionage, terrorism and subversive activities against Pakistan. He conducted these activities especially in Balochistan and Sindh Provinces. He confessed about his condemnable actions before a Judicial Magistrate and court. He also stated that he was tasked by the Research Analysis Wing(RAW), the Indian intelligence agency, to plan, coordinate and organize espionage, terrorism and sabotage aiming to destabilize and wage war against Pakistan. He made every effort to impede the efforts of the Law Enforcement Agencies and was eventually caught red handed. During his trial at the Field General Court Martial, he was provided a defending officer as per the law of the land.
In his mercy petition to the Chief of Army Staff on compassionate grounds, in June 2017, he again admitted his involvement in espionage, terrorist and subversive activities against Pakistan and expressed remorse at the resultant loss of precious innocent lives and damage to property. He has admitted of involvement in the assassination of SSP Aslam Chaudhry in Karachi. He has also confessed to targeting various workers of FWO, who were conducting different construction activities, in Balochistan and many IED attacks which were carried out in Quetta, Turbat and other cities, especially in Balochistan. He supported TTP and other groups, especially in the attacks on the Mehran Naval Base, various Radar installations and the Sui gas pipeline. All these were directly sponsored by RAW. Let us be very clear that Commander Jadhav is the face of Indian terrorism, especially in Pakistan.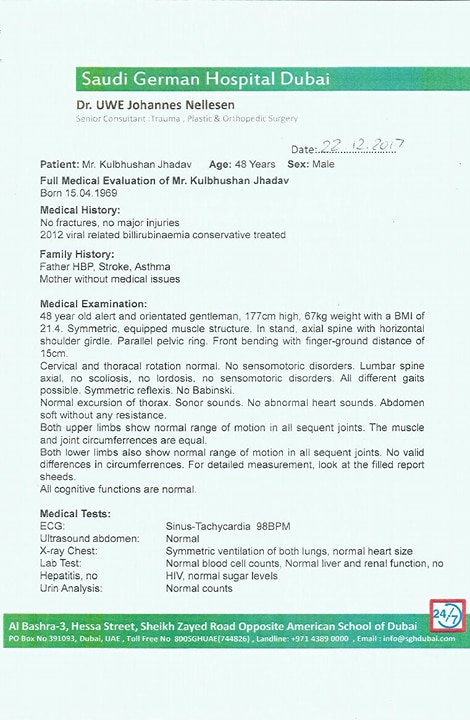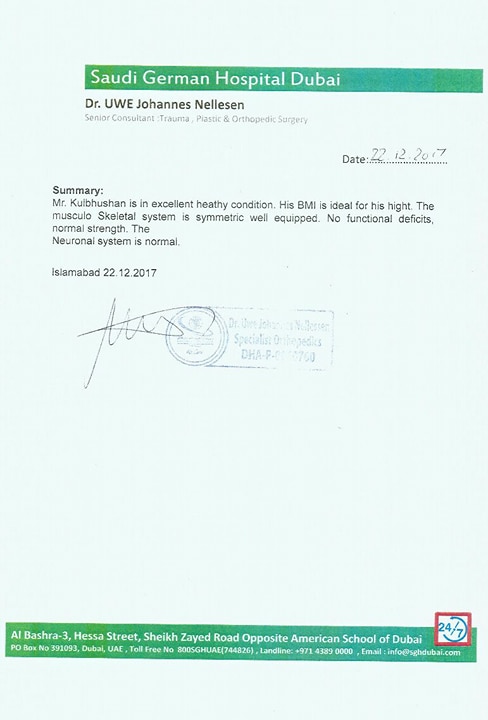 India was provided with a copy of the passport that was in the possession of Commander Jadhav, when he was apprehended. The passport bears a Muslim name, Hussein Mubarak Patel which clearly is not Commander Jadhav. India has been unable and unwilling to provide an explanation abouthow and why an authentic Indian passport was used on a false ID, not once but at least 17 times, as Commander Jadhavtravelled in and out of India. Indian silence is telling.
Upon completion of investigations and the trial, Pakistan offered to India that the wife of Commander Jadhav may visit to meet him. We received an Indian request that the mother of Commander Jadhav may also be permitted to meet him and a diplomat of the Indian High Commission in Islamabad to accompany the ladies. The request was considered in Pakistan and it was granted. The diplomat was present during the meeting and he could see Commander Jadhav. He was not allowed to speak or listen to the conversation of Commander Jadhav with this wife and mother.
Pakistan wanted the wife and mother of Commander Jadhav to speak to the media, here in this hall, today. This would have included the Indian media, as well. We had formally proposed this to India. This was done in the spirit that Pakistan has nothing to hide and like all of you seeks answers to many questions that remain unanswered. However, the Indian side requested that they wanted to avoid media interaction. Hence, I speak today without the presence of the mother and wife in due deference to the Indian request.
To reiterate, let me be very clear that Pakistan permitted the request by India purely on humanitarian grounds.
The visit was allowed in line with Islamic practices and teachings. Islam is THE religion of peace and advocates mercy. It is a gesture of good faith and compassion. Commander Jadhav's actions at Indian behest have deprived many mothers of their sons and daughters. Pakistan upholds the Islamic morals and values which teach mercy, grace and compassion for all.
One good deed should beget another.
Such decisions should serve as templates for others to follow, including in Indian occupied Jammu & Kashmir where innocent blood continues to be spilled.
I now have to show you some slides on the medical examination of Commander Jadhav and then I can take questions.