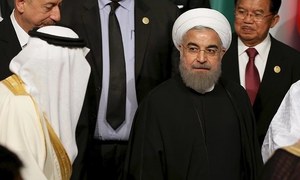 Agency
Iran has expressed its reservations regarding the appointment of the former army chief, retired Gen Raheel Sharif, as head of the Saudi-led 39-nation Islamic military alliance, saying it is not 'satisfied' with the coalition.
Iran's state-run IRNA news agency quoted Ambassador to Pakistan Mehdi Honardoost as saying that Pakistan had contacted Iranian officials before issuing the no-objection certificate (NOC) to Gen Sharif to lead the Saudi alliance.
"But [that] did not indicate that Iran was satisfied with this decision or it had accepted the same," the envoy said.
Honardoost said Tehran had informed Islamabad that Iran would not become part of such a military alliance, adding that neither had Iran been extended an offer to join a coalition of this sort.
He proposed that all important Islamic countries come together to form a "coalition of peace" in order to resolve their issues "rather [than] forming a controversial military alliance".
Gen Sharif is likely to assume command of the anti-terrorism alliance, being dubbed the 'Muslim Nato', in April.
The government had issued an NOC for Sharif to join the alliance after an understanding was reached between Pakistan and Saudi Arabia on the matter, retired Maj Gen Ijaz Awan, a defence analyst and close associate of the former army chief, had told Dawn.