By; Asghar Ali Mubarak, March, 17, 2018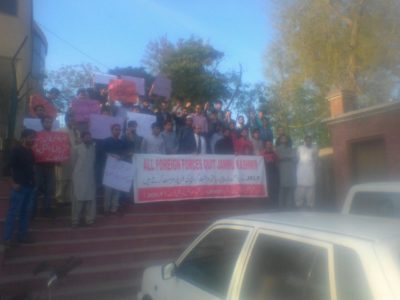 Rawalpindi; Today a JKSLF&JKNSF (Jamu Kaskmire Student Labration Front & Jamu Kashmire National Student Fadration) rally was held at Muree roadd and moved towards Press Club ex PS City Rwp. As per detail said program was held at said place under supervision by Adocate Khalid (Org JKSLF Rwp). While addressing they said Pakistani peoples do injustice on Kashmir peoples.
Pakistan do not gave vacancies for job to Kashmirs as per Kota.
Pakistan occupied our all sources and did give us royalty.
On both sides of Control Line Kashmirs are facing cruality of both Indian and Pak army.
Pakistan must be withdraw of its Army from our Kashmir.
They were Chanted slogans
1. Kashmir bany ga Khudmukhtar,
2. Khudmukhtary Jan say payari
3. Ye Jo deshatgardi ha os k peachy wardi ha.
Later they disbursed peacefully.