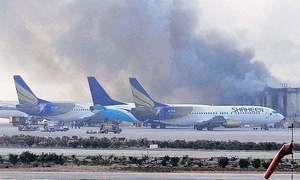 Crime Report
A 'highly wanted militant' suspected of involvement in several incidents of terrorism including the 2014 Karachi airport attack, the Mehran base attack and the murder of Superintendent Police Chaudhry Aslam was killed in a Counter-Terrorism Department (CTD) 'encounter' in Sukkur on Sunday night, police said.
The suspected militant, identified as Kamran Jamshed Bhatti, was affiliated with the Naeem Bukhari faction of Lashkar-i-Jhangvi, Additional Inspector General (Counter-Terrorism) Dr Sanaullah Abbasi told Dawn.
AIG Abbasi said the encounter took place in Sukkur on leads provided by four militants recently arrested by the CTD in Karachi.
After the arrest of Naeem Bukhari, Bhatti had the responsibility to arrange finances and ammunition for the Lashkar-i-Jhangvi, a CTD press release stated.
Bhatti was organising terrorist activities through his accomplices Asim alias Capri and Ishaq alias Bobby, the CTD said, and was also trying to build a network in the interior of Sindh.
AIG Abbasi said the suspected militant was also in touch with Asim alias Capri, an LJ Naeem Bukhari group militant arrested last year for his alleged involvement in the murder of famed qawwal Amjad Sabri and other terrorist violence.
According to the CTD, Bhatti was wanted for involvement in numerous terror incidents including facilitating the Karachi airport attack in 2014, attack on Station House Officer Shafiq Tanoli in 2013, attack on SHO Aijaz Khawaja in 2013, a bomb attack on an army vehicle in Korangi in 2013, blasts outside the Ancholi imambargah in 2013, attack on an RFF police truck at Korangi Crossing in 2014, the targeted killing of lawyers and members of the Shia community, and blasts outside the emergency department of Karachi's Jinnah Hospital.