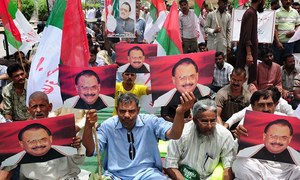 THE NEWSPAPER'S STAFF CORRESPONDENT UPDATED ABOUT AN HOUR AGO
HYDERABAD: An activist of the Muttahida Qaumi Movement-London (MQM-London) went missing in Latifabad Unit-8 on Friday evening.
Family members of Abid Ghauri, a member of the party's zonal committee and chairman of the Latifabad union committee-75, claimed that he was picked up by men in civvies while he was coming out of a mosque after Isha prayers.
A local spokesman for the party endorsed the claim.
Ghauri was made member of the zonal committee in October last year when the London-based leadership of the party announced local chapters of the party at a meeting held at the residence of Zafar Rajput.
According to the party and his family, Ghauri was taken to an undisclosed location in a Vigo.
His elder brother, Tariq Ghauri, is said to have filed an application in the A-Section police station of Latifabad regarding the incident.
The spokesman said that no case of wrongful activity was registered against Ghauri at any police station.