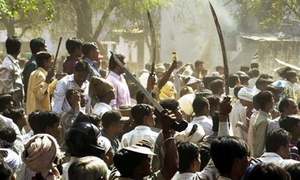 A Muslim man living near the Indian city of Ranchi was beaten to death by a group on New Year's Day after he allegedly asked them to turn off the loud music they were playing in close proximity of a graveyard, the BBC reported on Tuesday.
A senior police officer told the BBC that 19-year-old Waseem Ansari and two of his friends had asked a group to not party so close to the graveyard, but things escalated into an argument which eventually resulted in Ansari's death.
"Preliminary inquiry suggests that a group was playing loud music to celebrate New Year's Day." the police official told the British broadcaster. "Waseem Ansari and two of his friends approached the group and told them to stop playing loud music. This led to an argument and Waseem was attacked by the group. It seems he was hit by one of the sharp instruments used in cooking."
Hasibul Ansari, who hails from the same village as the deceased, added: "These people were partying near a Muslim graveyard. When Waseem told them to stop, they killed him. His friends were lucky that they managed to escape in time. I am very sure they would have been killed too if they had not escaped."
Angry protesters demanding the arrest of those responsible blocked the national motorway on Tuesday. although the police managed to disperse them.
To counter the threat of communal riots, the police has increased its deployment in the area and also asked the locals to "maintain peace" while assuring the victims' families "the suspects will be arrested soon."