Tutorship Online Confirmation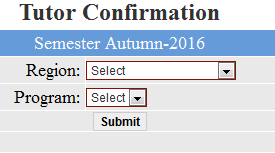 In every semester, Allama Iqbal Open University hires a large number of Teaching staff called as "Tutor", for the purpose of teaching into various courses, ranging from secondary level to Ph.D degree.
The university receives a large number of applications by advertising in the leading news papers. These applications were scrutinized and all the eligible candidates selected on a competitive basis, were registered and included in the central database. Every registered Tutor is issued Registration Card. These registered tutors can check their particular through university interactive web site by filling the criteria below.
(Reg. No. i.e 01-AKM-T0010 and residential district)
Just go on university website and fill the criteria above
More Links
http://result.aiou.edu.pk/Results.asp
AIOU Rollno Slip
http://www.aiou.edu.pk/rollnoslip.asp
AIOU
TUTOR
http://www.aiou.edu.pk/tutors.asp
AIOU
AIOU.