Paris, 22nd October 2018: The purpose-build Pakistan Pavilion at the Global International Food Products Exhibition (SIAL) held in Paris from October 21-25, 2018 attracted many buyers from around the world.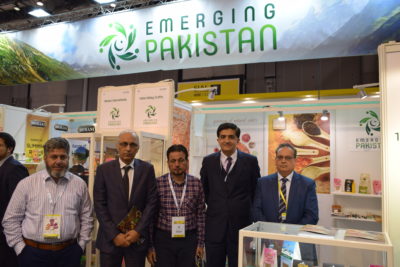 Over forty five (45) renowned Pakistani companies exhibited a variety of food products including rice, pickles, dry fruits, beverages, spices and processed food. Buyers from many countries including France who visited the Pakistan stalls showed keen interest in Pakistani products.
The Ambassador of Pakistan to France, Mr. Moin ul Haque visited the Pakistani Pavilion and appreciated the active participation of the Pakistani companies in the exhibition. In his interaction with the exhibitors, he emphasized the importance of quality control, competitive pricing, innovative marketing strategies and strong business ethics to compete at the international level.
The Ambassador noted with satisfaction that as result of the combined efforts of the Embassy and TDAP which included promotional activities and participation in the food related fairs and exhibitions, was bringing promising results. The exports of Pakistani food to France has registered unprecedented increase of 18.8% in the year 2017-18 compare to the year 2016-17.
The exports of Pakistani Basmati rice reached to Rs.678 million in 2017-18 compared to Rs.192 million of 2016-17 and Husked Brown Rice exports reached to Rs.1 billion in 2017-18 compared to Rs.726 million in 2016-17.
Over 7,020 companies from 109 countries are showcasing their products in the Global International Food Products Exhibition (SIAL).