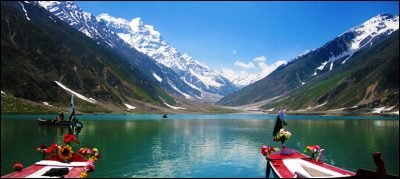 Pakistan has increased its ranking by one point – currently at 124 out of 136 countries – according to the Travel and Tourism Competitiveness Index 2017 released by the World Economic Forum.
In 2016, Pakistan witnessed less than a million international tourists, with an average receipt per arrival estimated  at $328.3. The total receipts from international tourism amounted to $317 million.
The travel and tourism industry in Pakistan has a share of 2.8 percent of GDP and is worth $7.362 billion. It employs slight less than 1.5 million people which make up 2.4 percent of total employment.
The worst ranking for Pakistan pointed out by the report was visa requirements where ranking was 135 out of 136 countries. It may be pointed that the Pakistan passport has also been voted as one of the worst in the world.
The government's prioritisation of travel and tourism industry was ranked at 132 among the 136 countries, characterised by low government expenditure, ineffective marketing and branding to effect tourists, and lack of comprehensive travel and tourism data.
Pakistan has 36 World Heritage cultural sites, which showed a decent ranking at 59 among cultural resources and business travel. This is also enhanced by increased digital demand for cultural and entertainment tourism.
The best ranking for Pakistan was in the price effectiveness category where it ranked an impressive 29. The report states that Pakistan has lower hotel and fuel prices, and higher purchasing power parity.
Spain, France and Germany continue to top the travel and tourism rankings, but Asia steals the show as the region's largest economies show the greatest rise in tourism-friendliness.
The top 10 include traditional strong travel and tourism destinations, such as Japan (fourth), the United Kingdom (fifth), the United States (sixth, down two places), Australia (seventh), Italy (eighth), Canada (ninth) and Switzerland (tenth).
Furthermore, 12 of the top 15 most improved countries are emerging markets. Asia's largest markets are not only becoming larger source markets but also more attractive destinations.
"The rise of Asia's giants shows that the Asian Tourism Century is becoming a reality," said Tiffany Misrahi, Community Lead of the Aviation, Travel and Tourism Industries, World Economic Forum.
"To reach their potential, the majority of countries still have more to do, from enhancing security, promoting their cultural heritage, building their infrastructure and creating stronger visa policies."
The report finds that the increasingly protectionist global context, which hinders global trade, is not holding back international travel, but resilience is clear as the industry continues to build bridges between people and stronger visa policies are being developed to enhance security while facilitating travel.
"The increasing importance of demand from emerging markets and technology are changing the travel and tourism sector's landscape at a fast rate," said economist Roberto Crotti.
"The capacity of countries to respond to and embrace these structural shifts will determine the future success of destinations."
The report has been published under the theme "Paving the Way for a More Sustainable and Inclusive Future," and provides a platform for dialogue at the country level to formulate appropriate policies and actions.
The report ranks 136 countries across 14 separate dimensions, revealing how well countries could deliver sustainable economic and societal benefits through their travel and tourism sector.
It highlights that the travel and tourism industry continues to drive growth, create jobs, reduce poverty and foster development and tolerance affecting lives of millions of people, and is a force for good in a largely stagnant global economy.
The number of international tourist reached 1.2 billion in 2016 and is expected to continue increasing in the coming decade. . In 2016, nearly 4 billion people traveled by plane, a number expected to reach 7.2 billion by 2035.
The global travel and tourism sector accounts for 10 percent of global GDP, grows faster than other sectors and provides one in 10 jobs. The industry contributed $7.6 trillion to the global economy, and generated 292 million jobs in 2016.
The sector is also making large strides toward a larger focus on environmental sustainability, and the revenue generated is an important incentive and a source of funding to protect the natural environment.