Remove blasphemous material from internet 'at the earliest', Rehman urges govt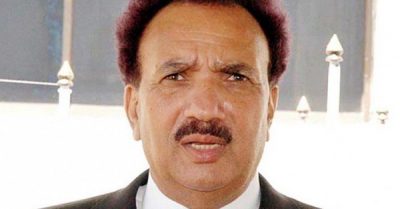 Pakistan People's Party (PPP) senator Rehman Malik has called upon the government to take tangible steps to remove "blasphemous material" from the internet at the earliest.
"We strongly condemn the presence of blasphemous material on the internet," Rehman said on Monday while chairing a meeting of the Senate Standing Committee on the Interior. "The government must devise immediate and long-term solutions [to remove the material]," he added.
Last week, Interior Minister Chaudhry Nisar Ali Khan said the government will leave no stone unturned to block blasphemous content on the internet, especially on social media platforms.
Islamabad police register case against owners of 'blasphemous' social media pages
The remarks came after an Islamabad High Court judge directed the authorities concerned to scrub all blasphemous content from local social media accounts.
The senator also noted that the government had been unable to disable fake twitter accounts in the name of the Senate chairman, and urged authorities to take urgent measures.
PTV harassment case
Meanwhile, Malik asked the Federal Investigation Agency (FIA) of probing the Pakistan Television (PTV) harassment case within three weeks.
He also questioned why a harassment inquiry was not held.
Place names of blasphemers on Exit Control List, IHC orders govt
"Harassment of women [at workplace] is condemnable and unacceptable," the senator remarked. He went on to say that those involved in such harassment must not be provided with any sort of backing, calling for more action by the authorities in the matter.
On March 2, Pakistan Television (PTV) anchorperson Tanzeela Mazhar resigned from her post at the state-run channel after, in her words, it failed to properly address her harassment complaint.
Anchors Tanzeela Mazhar and Yashfeen Jamal had accused PTV Current Affairs Director Agha Masood Shorish of harassment during and after working hours.